The 85th Annual Academy Awards have come and gone. According to some, including my 11-year old daughter Mason (a TFW Collective Member), the show was the "worst ever." I have to agree; it was spectacularly awful, from Seth MacFarlane's not-so-edgy sexist, racist, and just plain ugly jokes, to strange blasts from the past, to an odd, deer-in-the-headlight affect shared by many presenters.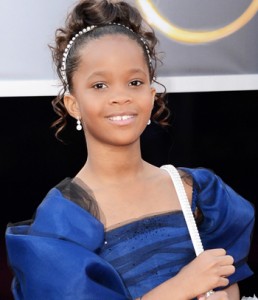 It was, overall, a good night for Argo, the Obamas, and the CIA; for Daniel Day-Lewis, Jennifer Lawrence, and Ang Lee; for white men with long whitish locks and strange facial hair configurations; for nipples and cleavage; for George Takei, who Facebooked his hilarious confusion regarding the Cardassians and the Khardashians; for the folks at Disney who own ABC which produced the Oscars (no incestuous entanglements there); and for talented, feisty Quvenzhané Wallis, despite The Onion's hateful little text calling her the c-word.  (And if you're as outraged by the tweet as we are, please sign this petition.)
Not such a good night for quality entertainment, or for the nominees who didn't win (I'm particularly disappointed about Denzel Washington), or for principles of justice, equality, diversity, and respect. Not to mention taste, of which there was very little on display last night. The only silver lining in this playbook that I could identify is that many presenters seemed as "put off" by the bizarrely choreographed show as the viewers were. Even the typically funny people weren't funny, and others just seemed embarrassed to be part of the spectacle. We can only hope that Hollywood's business-as-usual approach just can't fly anymore and that insiders are as sick and tired as we are.
Counter to the Hollywood machine, here at TFW we ran a three-day forum featuring articles on many aspects of the Academy Awards, with a combined focus on cultural politics, unrecognized movie gems, gender and sexuality, disability, race and ethnicity, and the ongoing operations of empire. In case you're just tuning in, below are links to all the articles that appeared in the forum. Hopefully, after last night's toxic love letter to moviemaking, these pieces will allow you to ingest some critical insight and commentary along with your tea.
Heather Laine Talley, "Five Things 'The Sessions' Gets Right: Sex and Disability On Screen"
Catherine Morrisey, "A Sliver of Silver in 'Silver Linings Playbook': A Look at Mental Illness in Film"
Kevin Allred, "'Beasts of the Southern Wild': An Affective Review"
Quincy Scott Jones, "Django in Philly"
Monica J. Casper, "Drunk On a Plane: Or, Why I Loved 'Flight'"
Sophia Azeb, "Zero Dark Thirty and the Problem of Pakistan"
Roya Rastegar, "Op-Ed: The Dangerous Limits of Race at the Academy Awards"
Pratibha Parmar, "Femmes, Pulling the Pieces Together: A Keynote Address by Pratibha Parmar"