A Woman Speaks
By Cheryl Boyce-Taylor
I pick a bunch of hibiscus blooms.
What lessons shall I learn from the spell of their senses?
For a long time I wanted to be a poet, but I was insecure about my writing, and often talked myself out of that dream. I was hard on myself. The thing I loved as much as poems were flowers, I knew that there was something to be learned by observing them.
On my night stand that year
I placed a bunch of red, peach and white amaryllis blossoms
some with their tongues already peering out
others half open    I wanted to observe the delicate way they broke skin
pushing ever so slightly into the vortex of the room
petals un-bruised   lighting the room  like so much sun after a rainstorm
I first met Audre Lorde at a gathering at Hunter College in New York City, the event was held to name a student library in her honor. I was in love with her poetry, but very scared and intimidated by her larger than life presence. She was not only brilliant, she was brave, fierce and absolutely stunning. At some point in the evening she came over and introduced herself to me. I told her that I was a novice poet; the truth is, by then I had been writing for many years, but I was almost speechless in her presence. We chatted a bit, and to my surprise she took an immediate interest and invited me to take a women of color class she was offering that fall. I began to stammer and tell her that I was not a student at Hunter. She did not bat an eye; instead she said, That's no problem, I'm giving you a personal invitation. I am looking forward to seeing you then. She smiled, and in that alluring Caribbean accent of hers, wished me a fine evening. My heart was beating outside of my chest I am sure. During the weeks that followed I decided that I was not going to accept her invitation, because I was not a real poet.
Dear Audre,
Thank you for the invitation to take your class. I am thinking that with a young son, school and work, that I may not have enough time to travel into the city to take your class.
Dear Audre,
I think that I may be experiencing a change of heart. Today I read poems from the Black Unicorn. It reminded me of how much I want to be a poet, a bad ass, grown woman poet like you.
A Woman Speaks

I have been woman

for a long time

beware my smile

I am treacherous with old magic

and the noon's new fury

with all your wide futures

promised

I am

woman

and not white

-Audre Lorde, The Black Unicorn
Now and then I sit quiet   cup ah coffee in meh hand
listen   hear de words hiss  sing
draw magic in dem breath
rest crimson in de damp gauze of girlhood
dem words weave faded straw into colorful baskets
they hang heart and lungs
teeth and bone
……………………meh head almost fall off de side ah meh face
………………………………………………………an fall  fall on meh dauter womb
dem words loop poems 'round moon neck
………………..and if yuh hear dem   hear dem ………write dem down yes we
ah write   ah write   dem down
A wooden fist cracks   cut and bruise her small black face   the kitchen smells of cod fish and fresh baked bread   he strikes her  cuss her   then sit to eat her bread   she eyes the hammer   the fry pan   the sharp edge of her mother's table between them
…………………………………………………….The pen waits pretending not to need.
 

I cannot say what was on the bed the day I left

Aracelis Girmay
Dear Audre,
I wrote a new poem today, I cannot wait to read it in your class tomorrow.
Morning cracked with sharpness
the girl whose hands I wear
will learn to fight   will learn to write
will learn to eat poems
I am the third generation of daughters  whose mother worked as a domestic pinching  scrambling to provide food   It always comes back to food   Immigrants are always hungry
always tired
always working three jobs      trying to catch that dream.
I am still thinking about the clay pot coolness of my first lover's skin
her bistre-brown nipples   how her bare chest rose and fell
the pillow wet with our woes
To class we brought our hips grapes lettuce  sun    our pens  tablets and sharply oiled faces
how our fingertips swelled rolling rough against the ocean of words
it was the year for blue moon and long impressions of sweeping light
earth opened her mouth belched up her tethered roots
her curse  her roar  her wings  her laughing body a kite rising
Her voice opening the door of day
I wanted her words to heal/hold me
I sipped her Candombe
lit the room with Kora and white sage
poems fell like Florida water
a red restless in the shuffle of feet on the early afternoon floor
That fall I only wore dresses  lavender-jasmine perfume  scarlet senorita lipstick   deep space voodoo blush
low necklines  dangling cowrie earrings and violet-blue rice paper journals
Is that not what it takes to be a poet?
On the first day I arrived at Audre Lorde's class without any poems. In my anxiety to make class, I forgot my poems at work. She called on me first to share a poem. With deep embarrassment I told her I had forgotten them. She asked me what kind of poet I was to come to class without my work. I was humiliated. I wanted to cry, but I never forgot my poems again, not then, not now. Audre told our class that Poetry was not a luxury. She said, we should use words as weapons, or not use them at all.  That night she asked: What would happen if you wrote the things you really wanted to say? Who is holding a gun to your head and preventing you from saying the things you must say?
In that moment I began to sob. I knew that I was the one holding the gun to my own head. There was weeping around the room then Audre asked, so who's going to bring the tissues?
That year I worked harder than I ever did before, at the end of class Audre asked me to visit her in St. Croix. I did not go to St. Croix. I was too afraid. That remains one of the biggest regrets of my life, but I learned a lot from that experience. Years later, one of Audre's friends told me that Audre really admired and loved my use of Trinidadian dialect in my work. I wrote a poem for Audre, and got a chance to read it to her at the I Am Your Sister International Conference, held in her honor. The poem is one of my old signature poems titled, A Dyke In A Dress. It was one of the last times I saw her. I am so thankful for the lessons I learned from Audre, I am still trying to be the hard working and truthful poet she saw in me so many years ago.
Whenever I lose my way, or need reassurance I turn to Audre's words. I especially love the last verse of the following poem.
Between Ourselves

 

Armed with scars

healed

in many different colours

I look into my own faces

as Eshu's daughter

crying

if we do not stop killing

the other

in ourselves

the self that we hate

in others

soon we shall all lie

in the same direction

and Eshidale's priests will be very busy

they who alone can bury

all those who seek their own death

by jumping up from the ground

and landing upon their heads.

-Audre Lorde
__________________________________________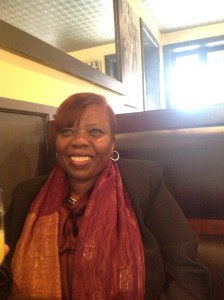 Born in Trinidad and raised in Queens, New York, Cheryl curates The Calypso Muse Reading Series and The Glitter Pomegranate Performance Series. The author of three collections of poetry, Raw Air, Night When Moon Follows, and Convincing the Body.  Cheryl's work has been commissioned by The National Endowment for the Arts and The Joyce Theatre for Ronald K. Brown's/Evidence Dance Company. A graduate of Stonecoast MFA Poetry Program, her poetry has been widely published in literary journals such as: Callaloo, Caribbean Erotica, So Much Things To Say:100 Calabash Poets, Adrienne,  Aloud:Voices from the Nuyorican Poets Cafe, The Mom Egg Review and Pluck! Journal of Affrilachian Arts and Culture.