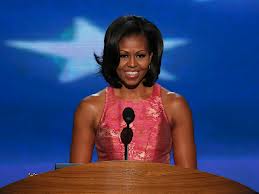 Michelle Obama's speech during Tuesday night's Democratic National Convention gathering has provoked talk and tears, and rightly so—she delivered. Political insiders, media outlets, and convention attendees alike continued to reference the First Lady's speech during DNC events held today. Political strategist Donna Brazile, speaking at today's gathering of the African American Caucus, for instance, noted that there is "nothing like hearing a testimony on a Tuesday night." Judging by the audience's confirming applause in response to Brazile, many audience members seemed to be in total agreement.
FLOTUS's speech achieved the joint goal of being both affecting and appealing. Yet, for all the emotion and thought that her speech catalyzed, its subtle inclusion of the rhetorics of hard work, bootstraps, individualism, and their subsequent results, namely, success, prosperity, and the achievement of the "American dream," might be a sign that the democrats are employing a set of "values" that are disconnected from the campaign's overall emphasis on collective work, and are strikingly similar to those found front and center in the Republican Party's platform.
In the speech, FLOTUS referenced her father's, and President Obama's grandmother's, personal stories as examples of how hard work produces positive results. She stated,
They simply believed in that fundamental American promise that, even if you don't start out with much, if you work hard and do what you're supposed to do, then you should be able to build a decent life for yourself and an even better life for your kids and grandkids.
This line from the First Lady's speech insinuates that one's hard work results in prosperity. Many listeners agreed.  She continued by offering the following testimonies to support the claim that individual hard work pays off, literally.
We learned about dignity and decency – that how hard you work matters more than how much you make…that helping others means more than just getting ahead yourself.

We learned about honesty and integrity – that the truth matters…that you don't take shortcuts or play by your own set of rules…and success doesn't count unless you earn it fair and square.
This speech is not alone in the proliferation of these "American values." The 2012 Democrat Platform, Moving America Forward, similarly notes:
[...]That begins by restoring the basic values that made our country great, and restoring for everyone who works hard and plays by the rules the opportunity to find a job that pays the bills, turn an idea into a profitable business, care for your family, afford a home you call your own and health care you can count on, retire with dignity and respect, and, most of all, give your children the kind of education that allows them to dream even bigger and go even further than you ever imagined.
The language, which connotes meritocracy, found in both Michelle Obama's speech and the Democratic platform, disconcertingly parallels the Republican Party's platform, which opens with the following line:
We are the party of maximum economic freedom and the prosperity freedom makes possible. Prosperity is the product of self-discipline, work, savings, and investment by individual Americans, but it is not an end in itself.
The shared language and shared vision of hard work, opportunity, and personal responsibility is telling.  According to the Republican Party, prosperity, which is the "product" of individual hard work, results in economic freedom. The logic espoused here is seemingly no different than the biographic narratives offered during the First Lady's Tuesday evening speech.  In short, the focus on individualism works against the key praxis of collectivism and/or community. This focus rests unobtrusively upon the logic of meritocracy, or, the belief that there exists an equal playing field from whence all Americans begin (and can depart).
This shift toward individualism and meritocracy defines success and failure through references to hard work and commitment. If one follows the prescribed path, one will actualize her/his dreams despite systemic and institutionalized barriers or systematic and material forms of social and economic inequity. And if one happens to not achieve the "American Dream," then s/he only needs to point the finger back at her/himself as the cause of such un-American failure.
The appeal to individual hard work, the focus on the "I," contradicts the core message of the Obama campaign, which emphasizes the collective "we."  The collective "we" is highlighted in various campaigns taglines, for example, "We must come together and stand together for Barack Obama." Not to mention the campaign image—painted in a glorious array of patriotic red, white, and blue—of a community gathered under a crescent.  Both proffer representations of the collective "we." And, though that "we" was materially present at the DNC on Tuesday, the notion of a collective "we" was disappointingly absent from some segments of the written Democratic platform.
A truly progressive platform is one that underscores the importance of collective work.  To secure actualized change, to see America (and all people) move forward requires a collective movement—not only as a voting bloc that needs to re-elect a Democratic President, but as partners/collectivities working in community to move America forward (and especially those Americans whose lives are entangled in webs of economic and social discord) at all times. The image and branding of the Obama campaign emphasizes this point well, but Michelle Obama's speech led to a very different conclusion.
We see an America where everyone has a fair shot, does their fair share, and plays by the same rules. -from the Republican Party Platform
Well, at least the Republican "we" seems to maintain such a vision. My hope is that the Democratic Party will offer a different vision and praxis, both of which are necessary for actualizing a vision of collective progress–the result of collective effort.