By Lisa Tomlinson
No more moaning and groaning
No more self-hatred masquerading as integration.
No more rejecting your own Ethiop's child for somebody else's Barbie doll.
You are part of a strong African-Caribbean influenced literary tradition.
Affirm your right as an individual, a woman and a writer to be both Black and British.

–Una Marson
Black cultural critics often acknowledge and celebrate Black political and cultural figures in the same vein, that is, without making a distinction between the cultural and political. Not surprisingly, creative work by male cultural and political advocates is more likely to dominate the list than that of their women counterparts. Seldom do cultural critics link the literary works of Black women to political spaces. While some progress has been made, in which African women such as Dionne Brand, Jean Binta Breeze, Maryse Condé, Afua Cooper, Nikki Giovanni, Sonia Sanchez, and Alice Walker have been noted for both their political and cultural contributions, Black women still remain under-recognized in this area.
This Women's History Month, as we celebrate and reflect on struggles for the emancipation of women, I find it only appropriate to resurrect the cultural and political contributions of Una Marson. According to Lloyd W. Brown, Marson was the "first female poet of significance to emerge in West Indies literature" and yet ironically, she is the forgotten mother of Caribbean poetry. In many ways, Una Marson's work has influenced both men and women Caribbean creative writers who, like Marson, have used literature to advocate cultural and political transformation in their home and host countries.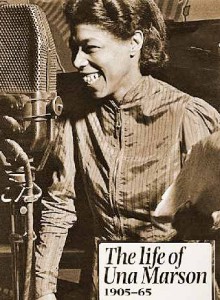 Born in 1905 in rural Jamaica, sixteen years after poet and novelist Claude McKay, Marson continued McKay's poetic journey with African Jamaican cultural aesthetics and served as a voice for Black working-class Jamaicans. Marson's work engaged anti-colonialism, antiracism, feminism, class politics, and Pan-Africanism. Indeed, her efforts in championing Jamaican literature as well as her avid support for access to local publishing positions for women made Marson a key figure in the development of a national and Caribbean literary canon.
As a product of a colonial British education, Marson's pioneering work emerged within the European poetic tradition. Her first two collections of poetry, Tropics Reveries (1930) and Heights and Depths (1931), mimicked the Romantic Era and Victorian Period, and her literary themes adhered to love and the local tradition of landscape poetry. However, after Marson had migrated to England, her literary work travelled a more radical trajectory to include African Jamaican aesthetical forms such as the local Jamaican language, orality, and African-centered religion. Uniquely, some of Marson's writings also blended African American jazz and vernacular culture, which was perhaps a result of her relationship with Harlem Renaissance writers Langston Hughes and James Weldon Johnson.
In addition to the radicalization of her literary form, Marson's subject matter became topical and the content of her writing began to address the lived realities of Black working-class Jamaicans and the wider Caribbean diaspora community in London, England. For example, Marson's third play, Pocomania (1938), spoke directly to Jamaican indigenous religious practices. The play was certainly a turning point on what was represented on Jamaican stage. Written in the Jamaican language, the play centralized the Africanized elements of the Pocomania religion. This dramatic literary production also integrated and utilized Jamaican proverbs, local dance, and songs. Of equal significance were the central themes of class division and marginalization of African cultural practices in Jamaica. Seemingly, the play Pocomania pointed to a significant moment in the development of a national theatre and evoked what Marson would refer to as a "cultural renaissance."
Una Marson's poems from her later collections, Moth and the Star (1937) and Toward the Star (1937), cultivated connections between Black literary aesthetics alongside Black internationalist views of Pan-Africanism. "Nigger," one of her most forceful pieces, narrated the bitter experiences of racism that she encountered in London. Marson's poem, similar to her literary counterpart Claude McKay (and later writer Frantz Fanon), resounded with the unexpected cultural shock of the colonial subject who migrated to the "motherland" only to painfully discover that their status in the empire is located as "outsider" and not the Britishness they were taught to embrace in the colonies.
"Quashie Come to London," a milder poem, comically depicted the experience of an alienated Caribbean immigrant attempting to culturally negotiate England's metropolis. Undeniably, Quashie's problematic relationship with the empire provided a template for future writers and cultural theorists to open up conversations around Black identities via a diasporic lens.
Other poems from these collections candidly injected a feminist sensibility and shifted from the conventional themes of female writers of the time. Marson boldly critiqued the complexities of Black women's self-image, and she also highlighted the intersection of class, race, and gender and their connection to economic exploitation, Black poverty, and white affluence in colonial Jamaica. "The Stone Breakers," one of Marson's few poems written in Jamaican, commented on the exploitative labor conditions of Black working-class Jamaican women forced to perform backbreaking work to survive—"Me han hat me,/Me foot hat me,/An' Lard, de sun a blin' me."
"Kinky Hair Blues" and "Cinema Eyes" both interrogated received and commodified versions of womanhood and Eurocentric beauty aesthetics as these affected Black women, a topic that Marson had challenged in the Jamaican magazine The Cosmopolitan after the Miss Jamaica Beauty Pageant in 1931. In "Kinky Hair Blue," voiced in the local language, Marson affirmed self-pride in her physical and racial characteristics, professing, "I hate dat ironed hair /And dat bleaching skin…/ Lord 'tis you did gie me All dis kinky hair…/ I like me black face And me kinky hair." Similarly, in "Cinema Eyes," the narrator who "grew up with a cinema mind" and thus "saw no beauty in black faces" now wants to protect her daughter from the same whitewashing she was exposed to as a youngster. Both poems reflected jazz and blues literary styles and expressed a Pan-African consciousness that challenged European standards of female beauty.
Like many writers of her time whose literature was anchored in political activism, Marson employed her literary ties as a vehicle to arouse social consciousness among her fellow Jamaicans and the Caribbean diaspora community in London. Marson became the first Jamaican woman to own and edit a magazine. The Cosmopolitan afforded Marson the opportunity to encourage local writers, but she also used her magazine as a platform to comment on current events and to bring to light taboo subjects, such as women in sports or class and color prejudice in Jamaica. Una Marson's cultural activism in Jamaica also led to the creation of Save the Children Fund, an organization that helped to fund poor children's basic education.
As she traveled back and forth to London, Marson remained equally committed to cultural and political currents. She was instrumental in establishing her own BBC radio program, Caribbean Voices. The forum, which Caribbean cultural luminary Kamau Braithwaite has called the "single most important literary catalyst for Caribbean creative and critical writing in English" (History of the Voices 87), was crucial in showcasing Caribbean writing internationally and undoubtedly acted as a precursor for many well-known contemporary Caribbean writers.
Furthermore, Marson's community work extended to various women's organizations in England.  In 1935, she represented Jamaica at the 20th Annual Congress of the International Alliance of Women Suffrage and Equal Citizenship held in Turkey. Marson was the only Black woman in attendance, and she presented a moving speech about her racial ordeals in Britain and challenged White women to stand in solidarity with African women in their struggle against racial and gender oppression. In the same year, Marson acted as secretary to the exiled Ethiopian Emperor Haile Selassie in London. Marson's last years of cultural and political activism were devoted to her campaign against discrimination toward Jamaica's Rastafarian community. She was instrumental in establishing a centre for Rastafarian children.
Una Marson struggled with depression and suffered nervous breakdowns. In 1945, she was admitted to Kingston's Bellevue Mental Hospital. After her release from Bellevue, Marson continued to engage in political and cultural activities. However, within a few years of her recovery, Marson was again hospitalized. In 1960, Marson moved to the United States, but after a failed marriage she returned to Jamaica, where died of a heart attack in 1965.
Indeed, Una Marson's work was well ahead of her time and was instructive and trailblazing in the ways we address race politics, Black beauty standards/Black identity, gender, religious discrimination, and class/economic exploitation. Her work was not partial to a singular cause but instead addressed the major forms of intersecting oppressions. Thus, Marson's life and work reveal her consistent and undying efforts to achieve a voice and selfhood for the oppressed.
Work Cited
Brathwaite, Kamau. History of the Voice: The Development of Nation Language in Anglophone Caribbean Poetry. London: New Beacon, 1984.
_______________________________________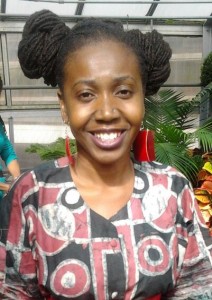 Dr. Lisa Tomlinson is a literary and cultural critic. She specialises in Caribbean and African Diaspora studies. She has written chapters on youth culture, hip hop, and dancehall in Canada, Creolising the Canadian literary canon, and Reggae and the Black diaspora. Dr. Tomlinson is currently Sessional Lecturer at University of Ontario Institute of Technology. She teaches introduction to sociology and media studies/communication courses.