Recently, NYU Press published 22 Ideas to Fix the World, edited by Piotr Dutkiewicz and Richard Sakwa. It's a fine book, full of smart, engaging, and provocative suggestions for instigating social change. Contributors include some of the brightest economists, historians, sociologists, and policy analysts of our time, luminaries such as Mike Davis, Muhammad Yunus, Zygmunt Bauman, Kemal Dervis, and Joseph Stiglitz. The book is weighty, in more ways than one.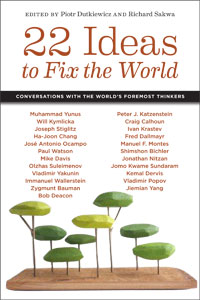 The contributors present a wealth of ideas, from recognizing minority rights (Will Kymlicka), to reductions in inequality leading to economic growth (Stiglitz), to acceptance of our interconnectedness (Olzhas Suleimenov), to the need for solidarity (Craig Calhoun), to the economic power of developing countries (Jiemian Yang). Taken together, the interviews (for each essay is, in fact, a conversation between "the world's foremost thinkers" and their interlocutors) offer a savvy diagnosis of what "we've" been doing wrong, as well as some brilliant strategies for reordering political economic systems and practices. Of course, there are also a few missteps, for example claiming that "the era of colonialism is now long gone" (p. 434).
Overall, in reading through this urgent collection of ideas about global political economy and its discontents, one cannot help but notice the glaring–and we mean glaring–absence of women. Not only are women not among "the world's foremost thinkers" featured in the book, but women, women's activism, and girls' and women's lives barely show up across 466 pages of text. Even Forbes, that booster of neoliberalism, noticed that 22 Ideas to Fix the World features only men; not a single woman is included among the 22 idea-generators. Where women do show up, men such as Muhammad Yunus are speaking for them, with little regard for transnational feminist critiques of microfinance.
Here at The Feminist Wire, we find it both curious and deeply disturbing that among the book's editors, contributors, and publishers, nobody thought to say, "Hey, wait a minute, folks! Maybe we should talk to some women." After all, it is the twenty-first century. And although men predominantly may hold prestigious positions in academia, government, and inside illustrious institutions such as the World Bank and the IMF, it is women and their families who bear the brunt of neoliberal policies, such as structural adjustment, and it is women activists who daily put their lives on the line to fight for local, regional, and global change.
We also find it both curious and deeply disturbing that among the 22 ideas, several that we find extremely valuable are neither discussed nor listed in the appendix. For example, feminism, anti-racism, anti-imperialism, and love, to name a few. (Peace, to the editors' credit, shows up at least once.) What rationalities, we wondered, could possibly lead to an important scholarly intervention about human rights, the global economy, micro-credit, environmental action, the future of democracy, the global balance of power, and the economic crisis without also including girls and women as subjects, or women as experts?
Again, let us gently note that we are living in the twenty-first century. Moreover, it's not as if there aren't expert women to call on, from Marilyn Waring to Bina Agarwal to Paula England, to Esther Duflo, Janet Currie, Anne Case, Claudia Goldin, Anne Krueger, Marianne Bertrand, Serena Ng, Janet Yellin, Amy Finkelstein, and so many more. As Marilyn Waring demonstrated so many years ago, "if women counted" is both a feminist analytic method and a call to arms for transforming the world. Apparently, women still don't count in 22 Ideas to Fix the World.
There is so much more to say about this book. But for now, we'd like to turn to our own ideas for fixing the world, in which we profile 23–yes, 23, because 22 just isn't enough–girls and women who are transforming our world with love, feminism, anti-racism, collaboration, peace, solidarity, empathy, critique, and hope. This is by no means an exhaustive list; it's a compilation of just some of the girls and women whose work we follow, who inspire us, and who demonstrate through their actions that it doesn't take a privileged political economist to fix the world.
Dr. Hawa Abdi, Somalia's first female gynecologist, is transforming health care in her country. Dr. Hawa and her Foundation have changed the way that poor, rural Somalian women and children receive health care, food, water, and schooling–independent of clan, religious, and political affiliation. Their efforts speak to the interconnectedness of health with other aspects of social life.
Dr. Yaba Blay is a writer, teacher, and publisher whose work challenges the ways that communities talk about beauty, color and gender. She is emblematic of a new generation of scholars determined to bridge the gap between community and scholarship. Bringing people together to lift up those who are denigrated for not fitting societal gendered standards of beauty, her project (1)ne Drop: Shifting the Lens on Race is a crucial intervention in conversations about race, identity, and community.
Malkia Cyril, activist and creative writer, is founder and Executive Director of the Center for Media Justice. Founded in 2008, CMJ uses the media as a vehicle for social change. Through CMJ, Cyril continues her media activist work of many decades, training and guiding the next generation of activists in the necessary new media approaches of the twenty-first century.
Jessica Danforth is Founder and Executive Director of Native Youth Sexual Health Network. Working on sexual and reproductive health, rights, and justice in the U.S. and Canada, Danforth's activism combines "individual" rights with community rights, linking bodily autonomy to indigenous rights to land. She has won numerous awards, serves as Youth Coordinator for the National Indigenous Youth Council on HIV/AIDS, and serves on several boards including SisterSong. She writes frequently on activism, social justice, and communities of color.
Syreeta Gates is a Culture Creator and has created an unparalleled connection with young people. As the founder of The SWT Life, Curator for "History MEETS Hip-Hop," and author of Just Be Cause: Ah Ha Moments to Inspire the Next Generation of Change Makers, she has inspired, educated, and impacted American youth for nearly a decade. Syreeta was awarded Glamour Magazine's "Top 20 Under 25" in 2010 and is highlighted in Tony Wagner's book, Creating Innovators. Her accomplishments as a youth development consultant and philanthropist have established her as one of the most promising cultural leaders to watch.
Juana Beatrice Guttierrez co-founded the Mothers of East Los Angeles (MELA) in the mid-1980s. With several other Latinas, she fought to keep East L.A. safe and empowering to its residents. Resisting plans to build a prison and trash incinerator, she ushered in a new generation of local activism, providing a model for contemporary struggles around community, the environment, and justice.
Malalai Joya is a writer, politician, and activist from Afghanistan. She served as a Parliamentarian until she was suspended for political reasons. She is included in Foreign Policy's list of Top 100 Global Thinkers for 2010, and in 2011 The Guardian named her as one of the Top 100 Women: Activists and Campaigners. She speaks widely on issues of women's empowerment and post-war Afghanistan. She is author of a memoir, Raising My Voice.
Fawzia Koofi, a women's rights activist and politician, was the first female deputy speaker of the Afghan Parliament and vice president of the country's National Assembly. She is running for President of Afghanistan in the 2014 election, on a women's rights platform. She is also the author of a memoir, Letters to My Daughters.
Khabar Lahariya is an award-winning feminist newspaper in India organized and run by a collective of rural women journalists, many from marginalized groups. More than forty women work in and for the collective, and the newspaper is distributed across 600 villages, with a weekly readership of 80,000.
Shanelle K. Matthews is an activist, journalist, and blogger who also works for the ACLU of Northern California. She is co-founder of Black Women Birthing Justice and serves on the board of the National Network of Abortion Funds. Recently, she was nominated for a Women's Media Center Social Media Award.
Janet Mock is a writer and trans activist who has refigured the national conversation about transphobia and racism. In 2012, Mock created #GirlsLikeUs, spurring a movement encouraging solidarity among transwomen and visibility. She is the author of Redefining Realness.
Katie Orenstein is founder and CEO of The OpEd Project, whose mission is to "increase the range of voices and quality of ideas we hear in the world." She writes frequently on issues of women's equality, human rights, media, and mythology, and is author of Little Red Riding Hood Uncloaked: Sex, Morality, and the Evolution of a Fairy Tale.
Medha Patkar is well known for her social activism in India, but most notably her key role in the protest against the construction of the controversial Sardar Sarovar dam. She founded the National Alliance of People's Movements and Narmada Bachao Andolan to counter the dam's social and environmental impact on the people inhabiting the Narmada River area. She is recipient of Amnesty International's Human Rights Defender's Award and the BBC's Green Ribbon Award.
Miriam Zoila Pérez is an activist, writer, founder of Radical Doula, and former editor at Feministing.com. Having spent several years working for the National Latina Institute for Reproductive Health, Miriam is currently Communications Director for Forward Together, as well as Chair of the Board of Directors of the Astraea Lesbian Foundation for Justice.
Favianna Rodriguez is an artist, organizer, and change agent. Documenting a myriad of social justice issues, from migration and global politics to economic injustice and patriarchy, and the interdependence of these issues, Rodriguez is using art to "create profound and lasting social change in the world."
Loretta Ross is co-founder and National Coordinator of the SisterSong Women of Color Reproductive Justice Collective. She wasamong the first to critique the reproductive rights movement for its emphasis on white, middle-class women and citizenship. Ross helped push "choice" and abortion-centered discourse and activism toward collective, contextualized health and justice analyses. She is currently pursuing a Ph.D. in Women's, Gender, and Sexuality Studies at Emory University.
Shadi Sadr is an Iranian lawyer and human rights activist who has defended women activists and journalists. She is part of Iran's "Stop Stoning Forever" campaign and the Global Campaign to End Stoning. In 2010, she founded Justice for Iran, a project of Women Living Under Muslim Laws. Her work has been recognized with several awards, including the Ida B. Wells Award for Bravery in Journalism.
Anita Sarkeesian is a media critic, blogger, and founder of the site Feminist Frequency. Through her web presence and fundraising efforts (e.g., the infamous Kickstarter campaign), Sarkeesian's work demonstrates the real consequences of violent imagery in women's lives. Her efforts to produce the acclaimed series Tropes vs. Women led to a barrage of misogynistic harassment.
SEWA (Self-Employed Women's Association) is the only all-woman bank in the world. Located in India, SEWA raised its capital through the unorganized labor sector comprised only of women, in order to provide them loans for their respective ventures like kite-making, vegetable vending, brick making and laying etc. Eliminated money-lenders from the economic relations and life-long indebtedness of poor women/ families.
Dr. Vandana Shiva is an environmental and anti-globalization activist heavily involved in the ecofeminist movement. She is a leader in the International Forum on Globalization as well as the founder of Navdanya, a program that seeks to revitalize indigenous farming practices in an effort to maintain biodiversity in Indian agriculture. She received the Right Livelihood Award in 1993.
Susan Stryker is a transgender historian and Emmy Award-winning filmmaker in the Department of Gender and Women's Studies at the University of Arizona. She directs the Institute for LGBT Studies and is co-founder and co-editor, with Paisley Currah, of the new journal TSQ: Transgender Studies Quarterly. With colleagues at the UA, Stryker is building the world's first transgender studies program.
Haile Thomas is a young chef and activist living in Tucson, Arizona. She is co-founder of The Happy Organization, dedicated to improving the health and wellness of Arizona youth. She hosts two online cooking shows, Kids Can Cook (with younger sisterNia) and Mix It Up with Haile, and was a guest of Michelle Obama at the 2013 State of the Union address. Thomas frequently shares her vision of a healthy world and serves on the Youth Advisory Board of the Alliance for a Healthier Generation.
Dr. Barbara Van Dahlen is a psychologist in Washington, D.C. and founder of Give an Hour, a non-profit organization is dedicated to addressing the mental health needs of military veterans and their families in the United States. In 2012, Dr. Van Dahlen was named one of TIME Magazine's 100 most influential people in the world.