By Nicole Guidotti-Hernandez, Shubhra Sharma, and Sophia Villarreal-Licona
DEADLINE EXTENDED TO JANUARY 1, 2014
At times, it feels like conversations about race in the U.S. are often expressed exclusively in a Black and white dichotomy. This forum intends to cultivate discussions that reveal experiences invisibilized by such a limited understanding of what it means to be a woman of color (WOC) today. With this call for submissions, we hope to explore the possibilities of "brown" as an inclusive term that is fraught in its history, but productive in terms of thinking about broader forms of solidarity and theorizing identity-in-difference. While it may seem inadequate to lump diverse groups under the rubric of "brownness," talking about "brown" women and feminisms could be a strategy to more aptly include the voices and visions of those marginalized within feminist and racial advocacy circles. Furthermore, "brown" allows us to consider the historical call by WOC feminists in the 1980s for solidarity and coalition.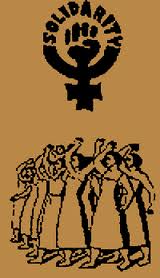 "Brown" and "brown feminisms" have been used to describe Chican@s, Latin@s, Middle Eastern women, Indigenous women, South Asian women, and others. This call for submissions seeks reflections on what "brown" means, especially (but not only) in a U.S. context. What or who is a "brown feminist," and what is the nomenclature of "brown feminisms" (as different from any other forms of racialized politics/advocacy)? Why is there no "brown feminism" when there is a normalized "white feminism" and also a "Black feminism," and how is this a differential issue of pan ethnicity vs. singular ethnic groups?
If there are "brown feminisms" but with different names (e.g., South Asian feminism or Hispanic feminism), what does it mean to create a meta-category of "brown feminism(s)"? Does a racialized categorization like "brown feminism(s)" subvert or strengthen feminist connections across racial/communal boundaries? Is "brown" a category that only really makes sense in the U.S. (much like the term "people of color"), or can it also make sense in a transnational context, as well?
We seek submissions that explore "brown" as a feminist vision, as an experience, and as a coalitional gesture. We invite written and visual expressions on this topic in all the categories in which The Feminist Wire publishes (e.g., critical essays, reviews, visual art, fiction, poetry, etc.)  
Here are some other questions you might consider:
1.  How is "brownness" politically manufactured? Is this construction a response to familiar activist grids–like Black feminism?
2.  What is the relationship between "brown" and mixed-race identities?
3.  How might histories of brownness allow us to theorize contentious political spaces and moments? National, transnational, colonial, post-colonial histories, and also from which other (non-U.S.) parts of the world?
4.  Could brown feminisms be a kind of activism in color-consciousness, a form of American cosmopolitanism? How might this be problematic?
5.  How might brown feminisms relate to other racialized feminisms?
6.  How does the category "brown" attempt to suture feminist fractures (Indian versus Sri Lankan feminisms, Native American versus African-American feminisms, etc.)? Does it fail or succeed in such mending?
7.  Are there dangers in "brown feminisms" following the traitorous path of "white" feminisms? How might such a formation betray and reveal privileged locations? In building brown feminisms, as part and parcel of larger colonial legacies, what kind of liberation are we imagining?
8. How do brown feminisms both attempt to include and simultaneously marginalize the role of Native American or Indigenous feminisms? How might we develop a critical notion of "brown" that does not silence or elide the "red" as similar and yet another example of solidarity in difference?
DEADLINE: JANUARY 1, 2014
To submit your work, visit our online system here. Also, please read our general submission guidelines before submitting your work, here. In the cover note or the work itself, indicate that you're submitting to the Brown Feminism(s) forum. Any questions can be directed to feministwire@gmail.com.