By Evren Savci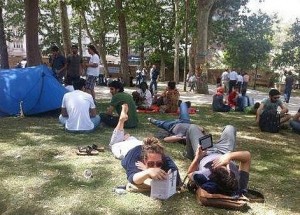 It has been almost two weeks since May 28th, when the residents of Istanbul started protesting the urban renewal project instigated by Turkey's Prime Minister Recep Tayyip Erdoğan (RTE), which would replace Taksim Gezi Park situated at the city center with a shopping mall and with restored Ottoman barracks.[1] The peaceful protests that started as an objection to the demolishing of Gezi Park and to the neoliberal restructuring of their beloved city on May 27th were met with a police crackdown, including the burning of the tents of the protestors who were camping on the park grounds in efforts to prevent the dozers from removing the trees.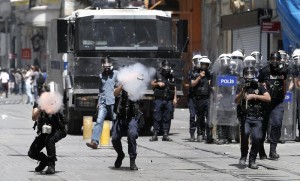 Police crackdowns of protests became commonplace under Erdoğan's Justice and Development Party (JDP) rule, where even the smallest scale demonstrations with a handful of participants were targeted with tear gas and police violence.  Elsewhere, I provided some historical background on the authoritarianism of the RTE regime, as well as the growing police violence in the country. Yet the Gezi Park incident seems to be the straw that broke the camel's back. The protestors' resilience and refusal to accept an autocratic, authoritarian government that unleashes its police force onto its people seems to have inspired many citizens of Turkey all over the country to pour into public squares in protests. The increasing participation in demonstrations led to excessive police violence, which led to larger crowds that not only demonstrated against the demolishing of Gezi Park, but that called the authoritarian JDP government to resign because it works "not for, but despite its public."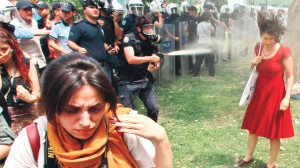 Such authoritarianism is present in both the actions of the current regime, such as mass arrests of journalists and academics who have criticized the Prime Minister and his government, the rushed passing of a ban on alcohol sales between the hours of 10 p.m. and 6 a.m., and also in the paternalistic attitude of Erdoğan towards the populace. For instance, his rhetoric around his opposition to alcohol, which eventually led to the recent ban on alcohol sales and advertizing, has been one about science and health: it is the citizens of Turkey and especially the youth he is looking out for. Yet his response to the criticisms that his decision was religiously motivated was telling.  It highlighted the delicate balance Erdoğan seeks to strike:
If the order is a right one, will you object to it simply because the religion demands it? You respect a law written by two drunkards, but you have to reject a reality simply because the religion demands it?
Here, the Prime Minister skillfully manages to not directly answer the question about his religious motivation, or lack thereof.  Yet, he simultaneously crafts a binary of "laws of drunkards" and "demands of the religion." Within a few sentences he salutes his pious voter base, establishes his law as the right kind of law (that Islam happens to agree with), and divides the nation into drunkards and those who live by the book. This is a division that has served the JDP government for over a decade, but one that is starting to unravel.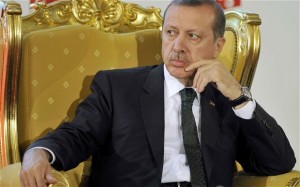 There is much more to be said about the Prime Minister's longstanding record of paternalist propositions to, and decisions on behalf of, its people: his friendly and insistent suggestion that all families have at least three children; his proud confiscation of cigarette packages from anyone within his reach (literally) — followed by a forced promise by them to quit smoking; his concerned public statement about the level of alcohol intake of Turkey's youth (finally about to be solved by a ban on alcohol sales); his labeling of abortion as murder and his moves to limit both abortion and c-sections (due to his love of children); and his Ministry of Health's recent fight against alleged obesity, inviting the nation to size down their proportions[2]. These "thoughtful" suggestions and legislations of the biopolitical state to craft a healthy nation are met by the daily distribution of violence and death by the necropolitical state: a state that manages to kill its civilians in supposed anti-terrorism strikes; a Prime Minister that denies the hunger strikes of incarcerated citizens as they slowly die; and a government that unleashes its unforgiving police force onto any and all demonstrators.[3]
Reports of thousands of people injured and two protestors dead as a result of the police violence at country-wide demonstrations constitute the latest example of which bodies are the subjects of the government's politics of life, and which bodies are targeted with death in contemporary Turkey.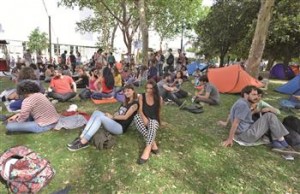 Yet, if power contains within itself possibilities for its own subversion, the chance of destabilizing Turkey's current regime lies in its leader's arrogance for sure, but also in some historical bad luck: the fact that it was a public park that was the straw that broke the camel's back after years of many citizens suffering from the autocratic government contributed immensely to the state of affairs. At Taksim Gezi Park, people who thus far have been distant, skeptical and even afraid of each other gathered to protest the police-state. Turkey is a country where ethnic, religious and other minorities, such as Kurds, Armenians and Alevis, have historically been excluded from state legitimacy and public presence, and have been easily presented as "threats" to national unity. Further, their painful and violent histories of exclusion are not properly recognized by the state, or by most of the Sunni Turkish citizens.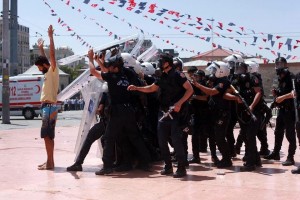 The secular Republic has historically heavily regulated religious expression, and it is this repressive history that has fueled "mildly Islamic" JDP's success at the ballot box for the past three elections. In other words, Prime Minister Erdoğan has a lot invested in maintaining his position as the sole representative of pious Muslims in the country, as exemplified by his response to the alcohol ban mentioned above. He also infamously referred to the protesters, whose numbers have reached hundreds of thousands across the country, as a handful of drunk plunderers.
The physical contact and co-existence made possible at Taksim Gezi Park between different groups, where Turks and Kurds, Sunnis and Alevis, pious Muslims and atheists, queers and straights together demand a non-autocratic and non-authoritarian government, seems to be changing minds and hearts. Tweets and Facebook posts from Istanbul, which have been the major news outlet as the mainstream media in Turkey willfully ignored the protests and the police attacks for the first five days, include numerous accounts with a feel of ecstasy from the collective effervescence that permeates the crowds: "one person falls, and twenty lift him/her up," one man proclaimed.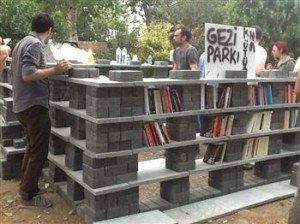 Such solidarity did not stop with the temporary retreat of the police from Taksim, and the current state of Gezi Park is a testimony to that: The park has become a place where people eat together, protest together and sleep together. Food, beverages, and equipment for basic health care needs are provided for free. The bricks that were used to build barricades against the police attacks and water cannons are now used for the Gezi Library where anyone can donate and read books. There are free concerts by the protestors for the protestors, at times with clever adaptations of traditional folk songs to match the protest.  "We should overcome the barriers and reach Taksim. Gezi is so beautiful, but without the police," sung the Bosphorus University Jazz Choir to a large crowd. When slurs against the government and the Prime Minister took misogynistic and homophobic tones, feminists and LGBT activists with spray paint made a project of going around the park and Taksim square to clean up or rewrite them.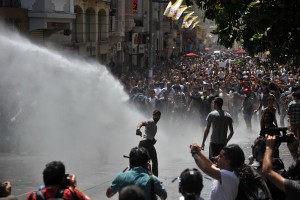 Next to excessive police violence was Turkish mainstream media's failure to report the protests that outraged the public.  This makes many citizens question Turkish media's validity altogether.[4] For instance, apologies appear on personal twitter and Facebook accounts for not having questioned past media accounts on the uprisings in the Kurdish regions of the country.  "I believe I am starting to understand what our Kurdish brothers and sisters suffered," reads a young woman's tweet. The daring mass protests that call the Prime Minister out for his authoritarian regime that curtails civic liberties (fascism and dictatorship are often uttered in slogans) are creating openings[5] for some of the truly marginalized groups in Turkey to add their grievances to the long list: Armenians remind us that the "historic" Ottoman barracks the government would like to restore were partially built on an Armenian cemetery that was demolished in the process. The Muslim minority Alevis and other people of Dersim demand respectful recognition of their religious practices, and ask that "[p]rospecting licenses which effectively allow the parcel and the sale of our mountains in Dersim [for mining purposes] and result in severe deformations in the landscape" be cancelled, among other requests.
Equally importantly, the supposed division between "pious Muslims" and "secularists" that has benefitted the JDP government's self-proclaimed position as the voice of pious Muslims in the country is starting to crack. In an "Open Letter to Tayyip from a Believer," Recep Kaya of the Revolutionary Muslims (Devrimci Müslümanlar) states:
We had voted for you to no longer be treated as second class citizens. Today you exercise the same cruelty we were subjected to on your adversaries… If me and others like me pray [in the park] while those whom you have called "marginal groups" keep watch to make sure we are safe… [t]oday you have ended your political career, Erdoğan.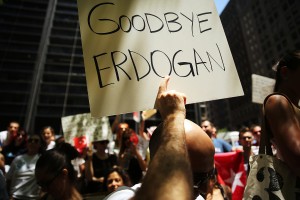 For every false accusation Erdoğan utters about the protesters, there is a counter-narrative: he and his supporters declared the protestors had sought refuge in a mosque to then smoke and drink inside; the Imam of the mosque immediately denied this claim. The video footage from that night shows how the mosque had been turned into a temporary infirmary for those who were injured by tear gas canisters the police shot at them. Many of Erdoğan's false accusations are aimed at dividing the people, turning those in "his voter base" against "a handful of drunken plunderers" as he repeatedly referred to the protesters. Yet, as he continues his threats about unleashing his voter base –his 50%, as he calls them– onto the protesters, repeating he is "barely holding them back at their homes," his narrative of a democratic Prime Minister invested in his citizens' welfare falters.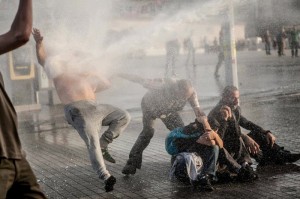 To demonstrate their solidarity with the pious Muslim groups at the park on Isra and Mi'raj, protesters made a collective decision not to consume any alcohol at Gezi Park on that particular day. Important to remember is the fact that many of those who decided to withhold from drinking are strongly against the Erdoğan-imposed alcohol ban. One Facebook image of the park shows the banner "Revolutionary Muslims" held up by a group of men and women with headscarves. "You had said you were barely holding them back at their homes; it looks like you failed" reads the caption. "Do not divide us anymore; we are all here."  While the coalitions and the respectful atmosphere formed at Taksim Gezi Park are incredibly exciting, it is nevertheless hard to end this piece on a romantic note. The violent police crackdowns on the protesters in İstanbul, where the international media attention is concentrated, have subsided for the moment. Yet, they continue in Ankara, Adana and other cities, and during rare moments when the protesters seem to get a break at city centers, police violence reportedly moves on to poorer neighborhoods with predominantly ethnic and religious minorities.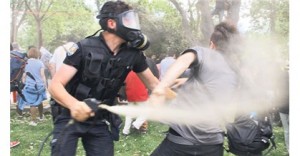 Prime Minister Erdoğan declared on his way back from a trip to North Africa recently that he is determined to proceed with the plans to remake Taksim Square, and gave "permission" to the protestors to remain at Gezi Park until today. How much more force the Prime Minister is willing to exercise, and how much more unfavorable international media attention he can afford are unclear. The protests have already affected the stock exchange and the interest rates because much of the country's robust economy Erdoğan prides itself on in fact rides on foreign investments that are easily pulled out, especially during times of political instability. His unwillingness to back down from his plans against all odds speaks to an ego that trumps everything else. What all will happen today remains to be seen; but what makes many of us nervous is that the Prime Minister's "love" for his country seems to be the kind we in Turkish refer to as, "you either belong to me, or to the cold earth" (The Turkish version of the saying goes "ya benimsin, ya kara toprağın").
---
_______________________________________________________________________
Evren Savcı is a postdoctoral fellow at The Sexualities Project at Northwestern (SPAN), and will be starting as an Assistant Professor of Women and Gender Studies at San Francisco State University in August 2013. Her work focuses on sexual regulation, queer politics, citizenship and modernity in Turkey.