By Hana Riaz
For many Women of Colour feminists globally and in the West, our struggle with mainstream feminism remains an arduous and painful one. Despite the great body of work that Women of Colour have created – speaking to diverse experiences of race, gender, class, ethnicity, religion, disability and sexuality –mainstream feminism remains hegemonically white and middle-class, and often colonialist and racist (amongst many other –isms). Its exclusion leaves the global majority on the margins, unable to pick and choose between their identities such as race or gender. As a consequence, Women of Colour and other intersectional feminist groups have largely worked to strengthen and build our own movements that address the needs of our multiple and intersectional communities directly.
I have often wondered what it would or does take for mainstream feminism to become more inclusive and effective; not only anti-racist but a space that incorporates diverse experiences and concerns that reflect a breadth of intersectional oppressions.
One of the primary issues with anti-ism work is that it often has a very different meaning for oppressed groups themselves. When I think of People of Colour organising against white supremacy in the West, the work that is done is not simply a case of anti-racism but that has a vision of dismantling white supremacy as a socio-political, economic and psychic order all together. This vision becomes heavily based on affirmation and self-determination; creating spaces that, on the one hand, deal with the racialised realities we face and on the other seek to affirm and nurture our cultures, histories, and entire beings. Anti-racism work for white folk, however, is usually legally or policy framed or showing support in the form of marches and protests. What it rarely necessitates is the introspection of Whiteness or privilege, how we as people internalise and reproduce systems of domination, and where that then locates each and every one of us within broader socio-political histories.
White supremacy and colonialism actively work not only to subjugate and dehumanize people politically, economically or socially, but crucially culturally and at the psychic level. White supremacy has meant that non-white life has been denigrated and denied in ways that political action necessitates affirmation and self-determination at its core. In order to fully challenge these systems and structures that reproduce oppression, People of Colour find ways of reclaiming their narratives, their histories, and their experiences whilst pushing forward a vision of black life that is restorative of humanity. This is often visible through community organizing based on historical education and literacy, promoting cultural or religious life, the use of the arts and culture, healing and trauma work, and nurturing physical, mental and emotional wellbeing. For Women of Colour, it's these spaces that have been fundamental in both our survival and resistance as individuals and collectivities, as not just women but more specifically as Women of Colour with many, diverse identities.
The reality, however, is that we live in societies that are racist and anti-people-of-colour generally, but, more specifically, anti-black. When we uncover colonial histories and imperial legacies, when we confront the narratives and systems that accompany these, we find racial hierarchies overwhelmingly defined by an anti-blackness; one that continues to be prevalent not only in the West but globally where ideas about race and ethnicity remain active social, political and cultural determinants.
As a South Asian, in an attempt to challenge the anti-blackness that is present in my communities even when we are organizing around anti-racism, sexism or imperialism, has forced me to identify as politically Black – a term that arose out of black and Asian peoples struggling against racism in Britain together – as part of a continued solidarity. I cannot be anti-racist unless I am calling into question its core tenet that even other communities of colour have and continue to enjoy levels of privilege over. Furthermore, it has allowed me to 'map' the ways in which experiences of oppression can be connected whilst producing very real, nuanced, and complex realities for different groups of people.
Understanding anti-racism work as being fundamentally pro-people of colour and pro-black in the way you are pro-women forces you to actively engage with, and support these avenues that promote non-white life whilst stressing commitment to corresponding political action within your feminist space.
So what does that look like in reality?
Learn: contextualise, locate and attempt to understand the varied and complex ways systems of domination work historically and in the present. There are books, videos, lectures, events – an abundance of resources for you to learn and critically think about how systems like white supremacy, colonialism, slavery and imperialism work to frame varied and complex experiences of inequality and oppression. It harnesses the possibility of limiting reduction, being able to identify more broadly as 'women' (or 'men') whilst offering the room to confront the fundamental differences that accompany that very same category or how that category is defined (e.g. indigenous meanings or concepts of gender or sexuality).
Decolonise: If someone calls your privilege out or identifies ways you may be reproducing racism don't take it personally. The reason why systems of domination are so effective is that they are reproduced not only through institutions and structures, but through real and living people. Having been socialised into society, and not outside of it, every one of us will be guilty of doing so even if it is subconscious. As bell hooks succinctly puts it: "labelling ourselves feminists does not change the fact that we must consciously work to rid ourselves of the legacy of negative socialization." Step outside of yourself and think about what or when you may be at risk of doing so and challenge that. Always acknowledge the limits of your knowledge and experience and learn how to use those limits as an excuse to do the radical: go beyond them. It's likely a whole world will be revealed in a new light, offering agency and possibility for transformation in very personal but political ways.
Responsibility and accountability: At every opportunity think about what you can do to incorporate or support People of Colour or other marginalised groups. Support spaces of agency or self-determination run and organised by these groups. Consider how particular agendas affect different people (e.g. Slutwalk or women and board representation). Encourage other white women or others with privilege to engage in the same way. Even if you feel that your work does not directly relate, it doesn't mean that you should ignore or negate what you can still do outside or beyond it to make your politics more inclusive and progressive.
Listen: one of the most powerful critical thinking skills is listening. Recently, I came across quote that forced me to contemplate the power of listening and what we in fact miss out when we don't: "Most people do not listen with the intent to understand; they listen with the intent to reply" (Stephen R. Covey). Listening, like decolonising and learning processes, allow us to understand the limits of our knowledge whilst opening up avenues for debate and discussion. Melissa Harris-Perry in her Wellesley Commencement Speech makes a poignant point about the distinction between choosing to be silent and being silenced. As feminists we often have to find our voices and use them to challenge the silencing patriarchy enforces upon us, of being able to say what we need to say. However, choosing to be silent is a resource and tool or as Harris-Perry puts it: "a vital precursor to voice". Choosing to be silent in the face of those who have less privilege opens up room and space to listen in order to understand, to learn, to engage with and ultimately to enhance resistance based on the agency we all have and use.
My dedication and commitment to a just and equal world is a result of the tools, resources and pedagogy that Black and other Woman of Colour feminist works have offered in dismantling my world and rebuilding it with hope. It is a world that has allowed me to find agency, empowerment and vision in personal and political ways, to consider that, whilst my work may be priority-focused on my own identity, nobody is free unless everyone is. These tools and resources go beyond simply asking for an anti-racist society and ask us to imagine, to dream, to vision a world outside the systems of domination that currently hold the global majority in its helms. Shifting from anti-racist to pro-Black/People of Colour (or pro-any marginalised group for that matter), means proactively working to move the margins to the centre, to help support and facilitate ways of transforming consciousness as part of transforming structures. This all takes work and commitment that you either choose to do or not. The tools are all there and have been for some time – it's up to you to use them.
_________________________________________________________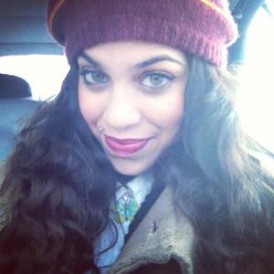 Hana Riaz has a Politics BA from the School of Oriental and African Studies (University of London), and just completed a Masters in Race, Ethnicity and Postcolonial Studies at the School of Economics (University of London). She is a black muslim feminist, a british south asian middle class woman, writer, blogger and believer in the transformatory power of love.