Name: Tomeka Hart
Candidate for: U.S. House of Representatives, District 9 (Tennessee)
Interviewed by: Tamura A. Lomax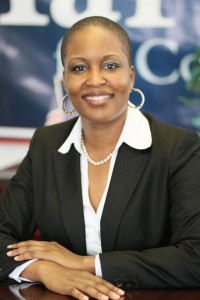 Why are you running for office?
I am a native Memphian and a graduate of the Memphis City Schools.  Raised in a working poor family, I am a first generation college student, attaining my BS degree in education, an MBA degree and a JD degree. I am a former public school teacher, an attorney, and I currently serve as the president and CEO of the Memphis Urban League. I was elected to the Memphis City Schools Board of Education in 2004, and I'm currently serving in my second term. Thus, through my experience I have been actively involved in direct services to clients, providing workforce and supplemental education services, and in education and workforce policy on the local, state and national levels.  I'm running for Congress because I have a vision for a better Memphis, and I have the leadership skills and experience needed to be effective.   I am passionate about addressing the high levels of poverty and low income, low education attainment, and workforce/economic development needs of my community.
What can you, as a woman candidate, offer that a man can't or won't?
Several recent articles have noted that women are underrepresented in the United States Congress.  Women run for office because they want to address issues and work with others to develop solutions. As a woman, I will provide a critical voice and help to bring issues affecting women and families to the forefront, including education, economic development, healthcare, domestic violence, child and family support, women's health, and equity issues.  While men can effectively represent women and the issues that are important to us, women are more likely to have these issues as a priority; I certainly will.
Can you give us a sense of what it's like on the campaign trail?
It is challenging, yet exciting! I spend a lot of time meeting people, telling them my vision for this office and listening to their concerns and ideas.  I meet people at community events, meet and greet events hosted by supporters, through social media, and anytime I'm out and about. I try my best to make any encounter with someone a campaign event! It is encouraging to meet a lot of people who support my vision and who want to see a different kind of leadership.
The challenge for me is that I'm running against an incumbent; therefore, the primary will be a tough election.  It is difficult to raise money against an incumbent, but we are still able to garner support for my vision and people are signing on to help us win!  My primary is August 2, 2012.  My team is focusing all of our attention on reaching the voters we need for a successful election.  While we will be outspent; we will not be outworked!
How do you also incorporate issues of race, sexuality, and other "identity politics" into your campaign?
The 9th District of Tennessee is majority African-American and majority female. The incumbent is a Jewish male. We've had to address the issue of race in response to the incumbent's assertion that I'm running against him solely because I'm black.  In response, I note my educational background, private industry and public office experience, and that I'm running to address the education, workforce/jobs, and economic development needs of this community.  I highlight the disparities in income, unemployment and education attainment between the black and white communities in Memphis, noting that those are important race issues that need to be addressed. I've pointed out that the incumbent is the only person speaking of the race of the candidates.  We are also prepared to address sexuality and identity politics head on.  However, we are focused on the education, economic development, and workforce needs of the community.
We are a feminist site where race, gender and sexuality are central. How have you had to address issues of race, and also, when you say that you're ready to address sexuality "head on" what do you mean?  Sexuality seems almost irrelevant here–as it is not a focus. I'm not sure how one focuses on education, jobs, and economic development without also engaging how identity politics, to include sexuality, function in those areas–in varying ways.
As noted, at this point, I've only had to address race in response to my opponent's assertions that I'm only running because I'm black.  The 9th Congressional District of Tennessee is majority black (approximately 65%).  The incumbent is the first non African-American to hold the seat since 1976 (Harold Ford, Sr. 1976-1996; Harold Ford, Jr. 1996-2006).  Since his election in 2006, the incumbent has accused his challengers of only running because they were black.  When I announced my candidacy in 2011, he repeated that assertion.
I've been asked by the media whether my race was an issue in my campaign.  Consistently my reply has been that the race of the candidates is irrelevant, but that any leader needs to address race as it relates to the disparities in income, employment, and education attainment between the African-American, Latino and Caucasian communities.  For example, Memphis has a 26% poverty rate. Broken out by race, the rates are 34% in the black community, 32% for Latinos and 14% for whites.  So from my perspective, the race of the candidates is not the issue; the issue is what the candidates plan to do about the disparities in this community.
My campaign is about improving the education, workforce and economic development statuses of the people in Memphis.  My work has centered on serving the most vulnerable citizens, helping them to get on the path to economic self-sufficiency.  When we positively impact their lives, we improve the lives of all Memphians. 
Race, gender, sexuality, etc., are certainly relevant and I didn't mean to suggest otherwise.  On the campaign trail, I'm finding that people are concerned about our public education system, realizing that we are not providing a high quality education to all students, especially our low-income students.  People are frustrated that we are not attracting enough jobs and that for the ones we are attracting, people are not adequately prepared for them. People complain about the loss of high wage jobs in the inner-city, coupled with a poor public transportation system, resulting in extremely high unemployment rates in their communities.  Memphis was hit hard by the mortgage fraud and foreclosure crisis, crippling communities and leaving them full of blight and plagued with crime. Lastly, people realize that minority and women owned businesses are not getting their fair share of contracts/business and that as a result, we are not creating the wealth we could and should to help improve the economic status of this community.
Because Memphis is majority black and female, the challenges discussed above are directly affecting black women more than any other groups.  As a black woman who grew up in a working poor family, I identify with those challenges. I've lived through seeing my father lose his job because it moved out of the community. I've experienced firsthand the effects of attending schools that did not offer the same level of education as ones in higher income neighborhoods.  When I visit my parents, I see the many boarded up homes that have been foreclosed on and I know how that has impacted the community in which I was raised.Further, I have experienced racial and gender bias throughout my professional career (as a retail manager, when interviewing for a teaching position, as a law student, and as a lawyer).  I know what it feels like to be marginalized and ignored in the workplace.My race, gender, experience, and background shaped my values and my passion for wanting to do something to improve my community. I'm finding that all groups–men and women, black, white, Latino, rich and poor–are concerned about these issues and agree that we need a leader in Congress who is passionate about addressing the challenges and bringing about real change. As I meet with people, they understand my reason for wanting to serve is because I have lived through many of the issues that I seek to change.  As a result, they know I'm sincere and authentic in my desires and vision.  They support me because they see I really identify with their challenges and/or the need for real change in this community.
Tell us what you think of the current political climate.
It is clear we need change, especially in Congress.  The political climate is far too divisive.  Too many of our current elected leaders appear more interested in their personal ideology—they seem to have forgotten that they are there to serve the people who elected them.  We need collaborative, servant leaders, who are willing to work with others to get things done and to solve real problems.
What do you think are the five most important issues facing the United States at this particular moment?
1.    Education: I support President Obama's goal of increasing our college attainment rate so that the US once again has the highest number of college graduates proportionately.  To reach this goal, we need to drastically improve the academic achievement and education attainment at all levels.  Our focus should be on early childhood education, K-12 education and post-secondary education/training.
2.    Jobs: While decreasing, our unemployment rate remains high.  We need to attract more jobs and we need to prepare people for those jobs. Women and minorities were hit harder by the recession and still face unemployment at higher rates.
3.  Economic Development: I include income/wealth disparity, business development and neighborhood stabilization under economic development. It is remarkable that the income disparity is greater in the United States than in most developed nations.  It is scary that the gap has widened over time. It is disappointing that not much, if anything, has been done to address this issue.  We can thank the Occupy Movement for bringing attention to this issue, but we need strong, proactive leadership to advance policies and practices to help close the gap.
Additionally, we must develop and support minority and women owned businesses (MWBE) so that they can generate wealth, and in turn provide jobs in their communities.  In Memphis, while more than 60% of the population is African American and 52% are women, MWBEs only receive approximately 20% of city business, with African Americans receiving just over 1%.
Finally, we must focus on neighborhood stabilization.  Too many communities are suffering from the effects of the housing market crash.  The high foreclosures and abandoned properties are wreaking havoc on neighborhoods, resulting in lower property values and high crime.
4.     Health care: There is no doubt that people need access to affordable and quality health care.  The Patient Protection and Affordable Care Act does a lot to address the access and affordability needs.  We also need more health and wellness education programs in efforts of improving the health and quality of life of the people in our communities.
5.   Divisive Politics: We need effective political leadership to address the issues above.  Our current political climate is so divided, and as a result nothing is being done to solve our most pressing issues. We need more leaders in Congress who want to work for the people and not simply advance their own agendas.
What advice would you give girls and young women considering a career in politics?
I would first ask them to run, let them know that they have everything inside of them to be successful in politics, and reinforce the need for more women in elected office.  I would advise them to surround themselves with people they trust, people who are smart, people who share their vision and values, and people who will challenge them when needed. I would tell them to always stand for what they believe in, and to always do the right thing, even when it is not popular.
Who are your political inspirations?
My political inspirations are Barbara Jordan, Shirley Chisholm, Shirley Franklin, Maynard Jackson, Ann Richards, Barack Obama, and Hillary Clinton to name a few.