By Johnnetta Betsch Cole and Beverly Guy Sheftall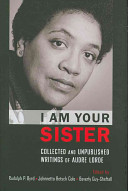 I Am Your Sister: Collected and Unpublished Writings of Audre Lorde, co-edited by Rudolph P. Byrd and the two of us, is a highly selective collection of Lorde's speeches and essays, as well as personal reflections from sister-scholars Alice Walker, Gloria I. Joseph, and bell hooks. The anthology includes, for the first time, reflections on Audre Lorde's connections with Spelman College, the oldest historically black college for women in the world.  Spelman is also the home of the Audre Lorde Papers which arrived on the campus in 1995 and have been open for scholars since 2009 in the College Archives which is managed by the Women's Research & Resource Center.  A generous grant from the Arcus Foundation in 2005 enabled us to process the papers and host students, faculty and researchers from around the globe.  Audre Lorde's journey to Spelman did not happen as one might have imagined.
In 1976, Ruby Sales, a temporary professor in the history department, a former SNCC organizer, and an aspiring historian, invited Audre to speak at Spelman—without fanfare or institutional support. This was a historic moment from my (Beverly) vantage point as a young member of the English department because she was likely the first out Black lesbian to speak to students and faculty.  Rather predictably, her visit met with some resistance when word circulated that she had spoken openly about sexuality matters.
Audre's return to Spelman  in 1988 when I (Johnnetta) invited her to speak not long after I was inaugurated as the College's first Black woman president two years earlier was certainly a major event. When I arrived at Spelman in 1987, I was told that Audre had visited the campus about a decade earlier, but because she had been coldly received and was the target of homophobia, she had vowed to never return to Spelman.  Drawing on our sisterly relationship, I invited Audre to come to Spelman and participate in a series that I called "Speaking at Spelman, Readings at Reynolds."  At first, she resisted but finally, perhaps as much to end my persistent asking, agreed to visit the campus in 1988.  This time she was warmly and properly received.  In many ways the work of the Women's Center, founded in 1981 by Beverly, had been dealing head on with gender and sexuality issues, so there was less hostility to Audre's radical feminist politics.
To be sure, Audre's most cherished gift to the College and future generations of scholars was her decision to give her personal papers and other artifacts to the Spelman Archives, a component of the Women's Center.  Capturing the significance of this connection at the 25th anniversary celebration of the Center, which was a symposium on Lorde's legacy, Leslie Feinberg asserted: "It is here at Spelman that the words and works of Audre Lorde have found a home.  This historically Black college has ensured that her fiery words will never be extinguished."   I (Beverly) am convinced that it was Audre's cherished friendship with Johnnetta and her subsequent visit to the Spelman campus that precipitated her decision to deposit her papers here.  Her will made provisions for this precious gift, and three years after her death in 1992, Audre's archive arrived at Spelman.
We are convinced that Audre Lorde's life's work helped us envision at Spelman a "beloved community" of sisters and brothers who are committed to a world free of all the isms, poverty, religious intolerance, misogyny, and violence. The Lorde papers were the first acquisition in a broader strategy on the part of the Women's Center and President Cole of becoming a major repository for the papers of influential contemporary Black feminist scholar/activists/writers. Professor Alexis de Veaux, who completed a biography of Lorde, Warrior Poet, was the first to conduct research in the Lorde Archive, followed by Rudolph P. Byrd who conceptualized I Am Your Sister (2009).
Audre's journey at Spelman had a profound impact on what we would like to call its feminist transformations. The students who enrolled in the first Audre Lorde seminar on campus last year are witnesses to her continued presence on the campus which we believe Ruby Sales could not have imagined in 1978!!!
_________________________________________
Johnnetta Betsch Cole, Ph.D.,  was appointed the Director of the Smithsonian National Museum of African Art (NMAfA) in March, 2009. NMAfA is the only national museum in the United States that collects, conserves, exhibits and educates about the traditional and contemporary visual arts of Africa. Through its exhibitions, educational programs and outreach to diverse communities, NMAfA fosters the discovery and appreciation of the arts and cultures of Africa, the cradle of humanity. Before assuming her current position, Dr. Johnnetta Cole had a long and distinguished career as an educator and humanitarian. She is President Emerita of Spelman College and Bennett College for Women. She is the only person to have served as president of these two historically Black Colleges for women in the United States. She is also Professor Emerita of Emory University from which she retired as Presidential Distinguished Professor of Anthropology, Women's Studies and African American Studies. Dr. Cole was the first African American to serve as the Chair of the Board of United Way of America. She currently serves on a number of boards, including the board of trustees of the Association of Art Museum Directors. Through her work as a college president, university professor and museum director, and through her published works, speeches and community service, she has consistently addressed issues of diversity and inclusion in the United States and around the world. Dr. Cole is the recipient of numerous awards including the Eleanor Roosevelt Val-Kill Medal, the Alexis de Tocqueville Award for Community Service from United Way of America, the Joseph Prize for Human Rights presented by the Anti-Defamation League and the George Washington Carver Award. Dr. Cole is a fellow of the American Anthropological Association and the American Academy of Arts and Sciences.
Beverly Guy-Sheftall, Ph.D., is founding director of the Women's Research and Resource Center (since 1981) and Anna Julia Cooper Professor of Women's Studies at Spelman College.  She was for many years an adjunct professor at Emory University's Institute for Women's Studies where she taught graduate courses in their doctoral program. Dr. Guy-Sheftall has published a number of texts within African American and Women's Studies which include the first anthology on Black women's literature, Sturdy Black Bridges: Visions of Black Women in Literature (Doubleday, 1979), which she coedited with Roseann P. Bell and Bettye Parker Smith; her dissertation, Daughters of Sorrow: Attitudes Toward Black Women, 1880-1920 (Carlson, 1991); and Words of Fire: An Anthology of African American Feminist Thought (New Press, 1995).  Additional anthologies include Traps: African American Men on Gender and Sexuality (Indiana University Press, 2001), co-edited with Rudolph P. Byrd; I Am Your Sister: Collected and Unpublished Writings of Audre Lorde (Oxford University Press, 2009), with Rudolph P. Byrd and Johnnetta Betsch Cole; and Still Brave: The Evolution of Black Women's Studies (Feminist Press, 2009), co-edited with Stanlie James and Frances Smith Foster. She has also completed with Johnnetta Betsch Cole a monograph, Gender Talk: The Struggle for Equality in African American Communities, which was published by Random House in February 2003, and Who Should Be First?: Feminists Speak Out on the 2008 Presidential Election (SUNY Press, 2010).  In 1983 she became founding editor of Sage: A Scholarly Journal on Black Women which was devoted exclusively to the experiences of African descent.
Dr. Guy-Sheftall is the recipient of numerous fellowships and awards, among them a National Kellogg Fellowship; a Woodrow Wilson Fellowship for dissertations in Women's Studies; and Spelman's Presidential Faculty Award for outstanding scholarship.  She is a member of the Board of Trustees at Dillard University in New Orleans, Louisiana.  She has been involved with the national women's studies movement since its inception and provided leadership for the establishment of the first women's studies major at a historically Black college. From 2009 through 2011, Dr. Guy-Sheftall served as president of the National Women's Studies Association (NWSA). Beyond the academy, she has been involved in a number of advocacy organizations which include the National Black Women's Health Project, the National Council for Research on Women, and the National Coalition of 100 Black Women, on whose boards she serves.  In her role as Director of Spelman's Women's Center, she has also been involved with the development of student activism around misogynist images of Black women in hip hop as well as a broad range of social justice issues, including reproductive rights and violence against women. She teaches women's studies courses, including feminist theory and global Black feminisms.