Sometimes it comes down to the pronouns.
When Audre Lorde first tried to publish "Love Poem" in her 1973 collection From a Land Where Other People Live, her editor Dudley Randall said there was something wrong with the pronouns.  "When I entered her?"  He didn't know what to do with that.  According to biographer Alexis DeVeaux, his editorial feedback was that the feminine pronouns might confuse the reader.   Hmm. Was it the pronouns, or the "lance of tongues on the tips of her breasts…" that made Randall suggest a complete revision?
Sometimes it comes down to the pronouns, but this was not one of those times.
In reality the poem was too clear, too brave, too lesbian and too queer for the context that sought to constrain it.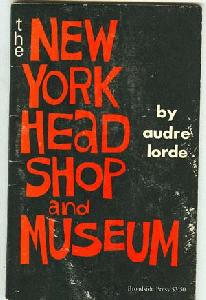 Broadside Press, arguably the most crucial press in the Black Arts Movement had marketed Lorde's work as the work of a mother, a teacher, and African-identified woman, and she was all of those things.   But underestimating its audience and/or because of their own political limitations, they did not affirm Lorde as a lesbian and certainly not as robustly as she would affirm herself in her 1974 bio in Amazon quarterly: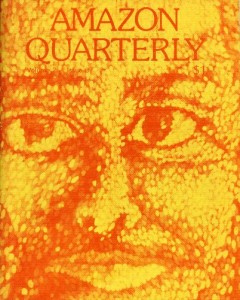 "I am a Black, Woman, Poet, Mother, Teacher, Friend, Lover, Fighter, Sister, Worker, Student, Dreamer, Artisan, Digger of the Earth.  Secret: also Impatient, Beautiful, Uppity, and Fat.  (Additional references upon request.)" –Amazon Quarterly, 1974
But Lorde prevailed and the poem was published, not in that collection but in 1974 in New York City Head Shop and Museum her last publication with Broadside Press , after which she chose to end her relationship with a publisher equipped only to celebrate fractions of her realness.
More importantly, Audre Lorde used "Love Poem" as a way to celebrate herself more fully and to embrace the erotic in her work explicitly in front of public audiences especially in New York City, years before she spoke and published her theories about that practice in "Uses of the Erotic/The Erotic as Power."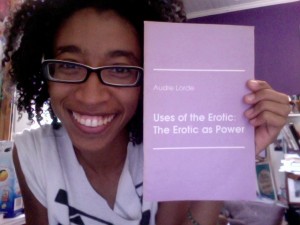 Days ago, in celebration of Audre Lorde, the Mobile Homecoming Project (an experiential archive amplifying generations of Black LGBTQ Brilliance) facilitated a daylong institute on Erotic Power called "The Fullness" at Creating Change, the largest annual gathering of LGBTQ people in the United States as part of their sex justice track.  More than 100 people attended the daylong institute, which included powerful story-sharing, movement, sound-making, poetry-writing, and a powerful ritual of release.  24 organizations that work year-round to connect oppressed communities to their fullness supported the institute with their resources and their attendance.  LGBTQ-identified people of many genders, ages, ethnic backgrounds and experiences worked through the day to create a transformative space even though some of the practices (jubilant sound circles, west African drumming, screams of joy and the appropriation of decorative trees out of the lobby) were queer to the conference itself and certainly to the major corporate hotel chain where the conference was located.   I left with a powerful sense of what it feels like to be fully embodied and to be holistically turned on in my relationship to my sexuality, my liberation, my community, my creative practice, my relationship and my growth.
One of the activities during the day was a "Lorde Concordance Oracle" based on Audre Lorde's "Love Poem."  "Lorde Concordance Oracles" are a form of repetition, meditation and revelation that I have been practicing for the past few years as a way to activate and collectively share the prophetic power of Audre Lorde's body of work.   The Lorde Concordance Tour has allowed me to take this work to many different settings and to have in-depth conversations with loved ones and complete strangers about how the words of Audre Lorde can transform their lives right now.
The way the practice works is that I read one of Audre Lorde's poems (or a passage of her prose) 26 consecutive times and distill sub-poems from the words that Audre Lorde chose from each letter of the alphabet (in their original order).  Participants choose an important question or an area of their life where they want guidance or a blessing and choose a letter that they associate with that desire and then we work with the poem in conversation with their lives.   The results have been truly miraculous.
The brave participants in The Fullness, day-long institute on Erotic Power took the opportunity to engage the Love Poem Oracle about their desires, growing edges in their sexual practices, their fears and hang-ups and their dreams, fantasies and intentions for their sexual practices and intimate relationships.  And now you can too!
Instructions:
1. Think of something that is important to you right now.  It may be the next step towards your erotic power or it may be a barrier stopping you from fully expressing your desire.
2.  Think of a letter that you associate with that topic.  It could be the first letter of your name or the name of a person that is involved in the desire.  It could be the first letter of the word that matches your intention (e.g.  I might choose the letter "f" because my intention is to be more free.)  It might just be a letter you love.  There is no wrong letter…however (helpful hint) there are no words in "Love Poem" that start with the letters d, j, u, q, x, y, or z.
3. Read the poem for the letter you chose.  What surprises you? What does it feel like to read the poem aloud.  What do the words make your mouth do? What do they make your imagination do?  What instructions, guidance or reflection to they give?
4.  Journal any insights that you have based on the poem.   What wisdom does the poem (which might only be one word!) offer for your situation right now.  Write in a place where you can come back to it later.
5.  If you want an in-depth one on one conversation with me about this poem or a Lorde Concordance reading from one of the other poems that has been part of School of Our Lorde 's  Resurrection Sunday Series check out this link to connect with me: (summerofourlorde.wordpress.com/resurrection-sundays)
Lorde Concordance: Love Poem
a
and
as
a
and
a
and
as
a
again
b
bless
by
breasts
breath
c
carved
cup
child
e
earth
entered
entrances
earth
f
flow
forests
fingers
flowed
from
g
greedy
h
honey
hips
her
high
her
hollow
honey
her
her
howling
her
herring-gulls
i
is
I
I
I
in
impaled
into
k
knew
l
love
lance
lungs
m
me
make
my
mountains
mouth
my
n
navel
o
out
of
over
out
of
on
of
on
of
on
of
or
out
over
over
over
p
poem
pain
r
richest
rigid
rain
s
speak
sky
spread
sound
split
swing
t
the
the
tongues
the
tips
through
the
v
valley
w
with
what
when
was
wind
whispering