By Ika Hügel-Marshall
I have become stronger and more self confident because of my friendship with Audre Lorde. Thanks to her presence, my life has become more active in struggle. And it has also become more joyful. Audre is still with me.  For the 80th birthday anniversary celebration of Audre's life almost twenty-two years after my dear friend Audre's passing, I offer the following words:
And when the time came, Audre said, "THAT IS THE WHOLE TRUTH." That was one of the very first sentences that Audre spoke in German. Audre is no more, and Audre is with me forever. That is the whole truth.
So many believe they had and so many did have a special relationship or a unique connection with Audre. We had everything. We had fun together, and we laughed often. I never told her how much she meant to me because it was understood. I never wrote a poem for her, just a few lines in my awful English.
We laughed a lot together and that was important.
When the time came, we borrowed clothes from each other. Audre wore my jogging suit, and she wore it everywhere. There was no place where she wouldn't wear the jogging suit because it was comfortable. That`s all that mattered.
And when the time came, we sat down together and talked. With a dictionary between us, she spoke in German, and I spoke in English. She loved the most difficult tongue-breaking words in German. "Discussion, Enthusiasm, Radiation, Passion, and Average Size," were some of the words she used often. Average-Size was the description of a fish she needed to purchase because her partner Gloria (Joseph) was going arrive in Berlin the next day, and Audre did not want the fish to be too large nor too small.
And when the time came, we talked about everything, important matters and seemingly unimportant ones, too. She shared about her childhood. She reflected upon her first and only sled. Because of her being nearsighted, she couldn't see very well. She collided with a tree and broke her foot.
And when the time came, Audre became tired and anxious because of the cancer. We practiced imagery together. We were going to jog in the morning, and it didn`t matter whether or not we really jogged. The energy did not come from the action of jogging, but from the idea and image of it. We felt very athletic.
And when the time came, there was more and more pain. Audre awakened my partner Dagmar and me in the middle of the night to hold our hands, feeling bad about having interrupted our sleep. I promised her long nights, and she knew that I would be by her side every night. Until her last night, when she died.
I loved her for her laughter, and I loved her for her struggle. In the end, it was important for her to receive and for once not to give.
Yes, she was like nobody else. She was unique, like we all are…As she said so often, and as she would say today.
________________________________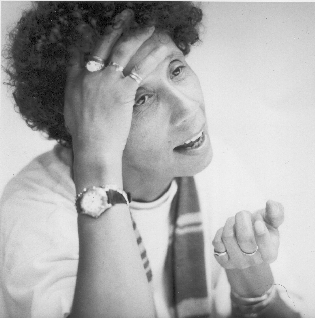 Ika Hügel-Marshall is a writer, artist, and university lecturer based in Berlin, Germany. She is the co-writer of the script for and protagonist in the internationally acclaimed, multi-award winning film, Audre Lorde – The Berlin Years 1984 to 1992. She is also the author of Invisible Woman: Growing Up Black in Germany, an autobiography about her life as an "occupation baby," who was born in a small German town in 1947.  Invisible Woman details the triumphant story of a daughter of an unmarried Black American ship officer and white German woman. Hügel-Marshall shares how she overcame many obstacles in spite of horrific state sanctioned and institutional racism that she endured. This led her to locate her father and unite with her loving paternal family in Chicago. She has traveled extensively giving book tours in both Germany and in the United States.