Tasasha Henderson
Many of us know and remember the names of Sean Bell, Oscar Grant, and Kimani Gray, all young, Black men who were murdered by law enforcement. But how many of us know the names Rekia Boyd, Tarika Wilson, and Aiyana Stanley Jones, young Black women and girls murdered by law enforcement? The list of Black boys, men, girls, and women brutalized and murdered by law enforcement in the U.S. is heartbreakingly long, but the female victims of police violence are not as well known and remembered as the male victims.
The murder of Trayvon Martin by George Zimmerman, and Zimmerman's subsequent acquittal, has ignited a renewed call to address racial profiling and police brutality of Black men and boys. Courageous women  have stepped up and said, Wait a minute, while racial profiling and police violence against Black men and boys is important to address, what about Black women? We are victims of law enforcement violence as well, and we need a movement to address state violence against all of us, Black men and women, including transgender women.
This is not about assigning higher value to one gender over another; the lives of Black women and girls, and men and boys, are equally valuable. But we need to see equal attention paid to the violence that Black women and girls face at the hands of law enforcement, by anti-police brutality and anti-racial profiling organizations. The stereotype that "blackness equals inherently criminal" and threatening, and therefore justifies the murder of Black people, applies to women and girls, too. As do the gendered contexts (domestic violence, War on Drugs, policing of sex work, and other informal economies) in which police violence against Black women occurs, and the racialized and gendered stereotypes about Black women (non-adherence to traditional gender norms, sexually deviant and available, drug mules) that are used to justify law enforcement violence.
Andrea J. Ritchie, in her important essay "Law Enforcement Violence Against Women of Color," argues that anti-police brutality work must integrate an analysis of police violence based on race and gender, and that the movement to end violence against women must address the myriad ways that community violence and law enforcement violence intersect and impact the lives of women of color. We must situate law enforcement violence against Black women within the larger contexts of increased police surveillance of poor Black communities, racial profiling, mass incarceration, and the prison industrial complex.
Jamila Aisha Brown, writing for The Guardian, posits that if Trayvon Martin had been a Black girl, we wouldn't even know her name, let alone come together to demand that her killer be held accountable. We need to know their names, the names of the Black women and girl victims and survivors of law enforcement violence.
________________________________________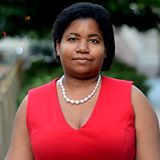 Tasasha Henderson currently works as a Grant Writer for a nonprofit organization that provides housing and supportive services for people who are homeless. She loves helping people and making a difference in the lives of others, which is why she works in the nonprofit sector. She has worked and volunteered with organizations that focus on mental health, HIV/AIDS, incarcerated girls, and international clean water projects.
She has a Bachelor's degree in Communications from Indiana State University and a Master's degree in Nonprofit Management from DePaul University. Her research interests include race and social welfare policy, reproductive justice for incarcerated women, and ending the prison industrial complex. The common thread that combines her research interests is the impact of public policies on poor people of color, particularly women, and other marginalized communities.