By Kaila Philo
Douse my skin with bleach, I want to watch it sizzle.
There it goes! The brown sky begins to lighten
as the bright white dawn begins a brand new
day.
Fire has diffused under the tarp and begins to
travel alongside blue blood as it morphs to the
sinful crimson synced to the rhythm of the
sunup.
Speckles and spots are drawn on my nose and
decorate the freshly laid canvas, with a rosy
pink broadened heart adorned underneath.
See,
I want to be painted, I want to be the next great
masterpiece worshipped by royalty; let this
void bless my wee heart with the beauty of a
thousand Agnolo Bronzino portraits.
Oh,
An old portrait sheds a tear as it's repainted
with blue, ivory blue as the sky above the
virtues of play during recess on Monday,
and the tear lets herself
fall
to my collar. Another, and another, follow their
fallen sister as the blade glides itself into
my cheek to extend such a smile; no pain,
no gain, as they say.
Perhaps
now I will be the beauty we seek
in death.
________________________________________________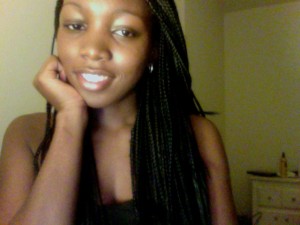 Kaila Philo is a 17-year-old Buddhist lesbian poet/writer. She plans to attend Sarah Lawrence College as an English major and eventually join the Peace Corps as an English teacher. She also hopes one day to publish an array of books promoting gender equality, body positivity, and overall peace.