By Lillie Anne Brown
Ok, let me just start by acknowledging what I get:
I get that Tyler Perry provides excellent employment opportunities for people of color at his Atlanta-based studio.
I get that he is a spiritual person and understands from where his blessings come.
I get that he says he doesn't care what critics say about his work.
I get that he still struggles with issues of childhood physical, sexual and emotional abuse.
I get that he and Oprah Winfrey are friends and that they share some of the same issues aforementioned.
And I get that he has a fan base that will follow him to hell and back no matter what he writes, creates, directs or produces.
It's that to-hell-and-back fan base for whom, I believe, he has created his most recent production, "The Haves and the Have-Nots," a nighttime drama airing on OWN, the Oprah Winfrey Network. And while various media sites report that the network is struggling to attract a larger viewership, it is understandable as well as admirable that Perry would come to the aid of his friend. He is, after all, phenomenally good at bringing in viewers to screens, large and small. This latest undertaking, a first for him in terms of "serious" nighttime drama, centers around the wealthy Cryer family, a Savannah, Georgia clan whose domestic troubles are rooted in secrets, clandestine behaviors and deceit. I believe, however, that the family's troubles are not as precipitous as the problems present in Perry's production. A double-edged sword?  It is indeed.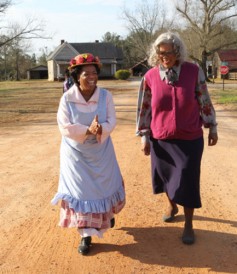 While I certainly admire Perry for pulling himself up by his New Orleans bootstraps and making immense things happen for himself and others in monumental, humanitarian ways, I can't extend that same level of approbation for the kinds of cinematic and small screen violations that he continually thrusts upon the viewing public. "The Haves . . ." appear in the form of a nocturnal aggregate of his body of work. He has, over the years, given audiences memorable characters, iconic phrases and a reverence for knowing what his viewers want. As a result, his most identifiable character, "Madea," continually graces his big screen productions. She comes replete with personal lingo, style of dress and, most intently, outlandish behavior — elements that endear her to audiences. As an unchanging figure, which, apparently is her most attractive quality, she puts "character" into each cinematic performance as only she can. And while Perry has faced harsh criticism for his portrayal of this figure, he soldiers on, unscathed, at the box office. If there is a grace to be saved in "The Haves . . . ," however, it is that Madea doesn't make an appearance, and for this small act of graciousness and goodwill we should all be so indebted. But charity, I'm afraid, can be extended only so far: There are other characters, improbable scenes, concocted lines and dubious camera shots that more than make up for Madea's absence.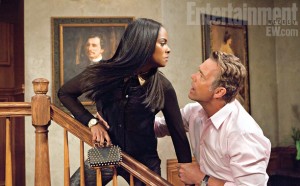 Early in the premiere of "The Haves . . . ," Perry begins his assault upon viewers with what I call "The Theft of an Infamous Line."  While language belongs to all of us, some statements simply belong to the person who utters them first. Case in point: When former Washington, DC mayor Marion Barry was caught on video in a drug sting with a woman in 1990, his memorable declaration, "The bitch set me up," made us cringe, for all kinds of reasons. While Barry's level of frustration at being caught does not excuse his behavior or choice of words, he will certainly be forever linked to the remark. When Jim Cryer, the family patriarch in "The Haves . . . ," spews the exact five words—in a badly-acted scene—in frustration at having been discovered dilly-dallying with a black call girl, Perry's copycat line says that not only is he not a wordsmith when, at the exact moment he needs to be, but also that he fails to recognize that Jim Cryer will never, in the conduct of Marion Barry's dramatic pronouncement, own the scene no matter how viciously he spews the words. Cryer's overly contorted face only added to the wretchedness of the scene.
For an attempt at some type of parallel alliance, Perry would have done well to include a panorama of Washington, DC, in Cryer's "bitch" scene. To do so would have added absolutely nothing to the scene, but would have made about as much sense as the opening setting where the Cryers' adult son Wyatt, saunters downstairs in his birthday suit. Perhaps Perry believed such an ostentatious entrance by the son, whose name means "brave" and "strong," would serve as a personal metaphor for courage and potency regarding his venture into nighttime dramatic entertainment. In Perry's universe however, one thing does not necessarily lead to an expected occurrence of sensibilities: There are almost always bumps, bruises, cuts, scrapes and contusions along the trail. A surgeon's scalpel, however, can't fix the multitude of ailments present in this drama, and a coffin can only hold so much.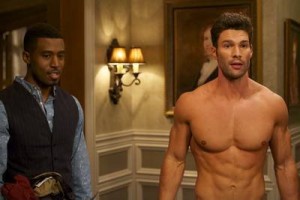 As he has shown numerous times in other creations, it is necessary to present women of color dripping with venom and engaging in high octane spats and face-to-face showdowns. Invectives fly with abandon throughout up-close-and-personal spaces, and oftentimes all that's left are heaves, sighs and cross-eyed, dirty looks. In "The Haves . . . ," he makes sure he adheres to the tried-and-true formula.
The Cryers' black housekeeper "Hanna," and her adult, errant daughter, conveniently named "Candy" (the "bitch" of the bootleg shout-out), have a bawdy face-off in one of the Cryers' upstairs bedroom regarding Candy's up-to-no-good intentions. But how has Candy become part of the Cryers' circle? Well, as fate—or bad writing, take your pick—would have it, she just happens to be the new best friend/law school study-buddy of Amanda Cryer, the matriarch's adult daughter who still lives in the family's spacious, upscale home. Upstairs in Amanda's bedroom, Candy takes a fretful Amanda under her wing and assures her that together, the two of them will reach their lesson-studying goals together. Candy's devious look, as the two commence studying amid Amanda's incessant questions, hints that she believes she has hit the mother lode of friendships. "Where have you been during my life of poverty and wretchedness?," Candy's eyebrow-arching expression suggests. Amanda, as clueless as Candy is deviant, is just elated to have a new buddy to help her through the turmoil of her studies.
With Hanna's insistence that the mother-daughter kinship remain a secret in an effort to remain in the Cryers' employ, her grown, still-living-at-home/tow-truck-driver-aspiring son finds it essential to remind her, once she gets home from the Cryers, that he and his sister Candy have different fathers which, he surmises, might account for her roguish behavior. Hanna's removal of her shakable "workday" hair reveals a lovely crown of natural hair, which she immediately covers with a stocking cap, piggy twist tail and all. With great pride only a grown-up son still living with his mother can muster, he comforts her, as they fret over the possibility of losing the house.  With the deportment of Candy's assurance to Amanda Cryer, the son proffers an identical pledge to his mother.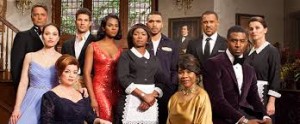 As the two-hour premiere came to a farcical close, with Candy behaving preposterously badly (in a rough-house, over-the-top scene designed to reign in the next orbit of viewers), I felt as if I had been watching a one-star horror movie in a darkened theater, peeking through parted fingers, afraid to view the next scene for dread of the unknown. Not only was I exhausted from the riotous plot (and I'm climbing a slippery slope in the assumption that one existed), I was absolutely spent from the mental calisthenics needed to remain near Perry's track. I realized during the first few minutes of the drama that in an attempt to create his own dramatic narrative, bits and pieces of other folks' dramas had made their way into his production. "Imitation of Life," "Sisters and Brothers," "Downton Abbey" and "Scandal" immediately come to mind. Where is the Institute of Encroachment when you need it?
While cast members of "The Haves and the Have-Nots" are veteran professionals who bring a range of dramatic experiences to the table, Perry's apparent unwillingness to seek creative input into his efforts is problematic. It leaves one to wonder if he simply believes that massive viewership, regardless of reception and/or delivery, is absolutely all that is needed or required in the business of cinematic and televisual productions. His obvious refusal—and surely it's a refusal—to avail himself of those in the business who are more practiced in the craft of writing, creating, directing and producing than he suggests an artistic irresponsibility bordering on arrogance and obstinacy. As an artist, he has an obligation to learn the craft and not simply generate a product. More importantly however, he has a responsibility to the performers who honor him with their presence and depend on him to create a story worth telling.
________________________________________________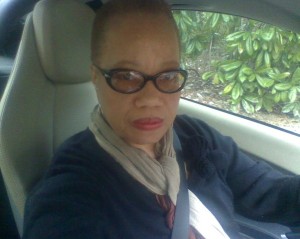 Lillie Anne Brown teaches in the Department of English and Modern Languages at Florida A&M University in Tallahassee, FL, where she also serves as Co-chair of the Grievance Committee of the College of Social Sciences, Arts and Humanities. Her work has appeared in numerous books and journals, including Revista Lingua & Literatura; Personal Souths: Interviews from the Southern Quarterly; The Journal of the Pennsylvania State Universities; Black and White Masculinity in the American South; Pakistaniaat; Children of the Changing South: Accounts of Growing Up During and After Integration; and The Encyclopedia of the Environment in American Literature. An essay, "Negotiating Racial Performances in the Capital City," is forthcoming in Florida. Her research interests center on images of the female body politic and the intersection  of race, power, gender and identity in southern literature. She has written and lectured extensively on the works of American author Ernest J. Gaines and is at work on a project in celebration of the 20th anniversary of the Pulitzer Prize-nominated novel A Lesson Before Dying. She has also laid the groundwork for Kaleidoscope: Essays on Kinship, Community and Cultural Traditions. A politically conscious member of the community in which she grew up, she writes a blog for the Innocence Project of Florida, a public policy organization that seeks to free wrongfully convicted men and women through DNA testing. Her essay, "Not the Belle of the Ball: Bernice, an Unconventional Girl About Town in Jennifer Lopez's South Beach Tow," appeared in The Feminist Wire in November 2012. She holds a PhD in 19th and 20th Century literature from Florida State University.