By Alexa Lambertis
At an early age, I was exposed to a woman who essentially changed my life. A sweet lady with a southern background, she was introduced to me as a family friend. I met her in her own home, where we would spend a majority of our time together. I remember how we'd chat about the daily pitfalls and highlights of my elementary school life. I often think of how much it seemed she genuinely cared. Honestly, I often wondered why she did and who she really was. However, I suppose what fascinated me the most was the life I perceived her to live. Here was a lady who came off as perfectly modest, yet struck me as someone with plenty to boast about. She glowed with patience and bright brown eyes that focused only on you. Her ways were nurturing and motherly, but she didn't seem anything like my own mother.
Her name was Ms. Yolanda.
I soon made the observation that she lived comfortably. She never found herself having the MTA as her only source of transportation, because she had her own vehicle. The African art in her livingroom symbolized her sophistication; her location, a modest building in a quiet part of Harlem…not too far from my noisy reality. She quickly became a role model to me.
One day, my father picked me up from school and we went to her house. I was skeptical and unsure of how I felt about these after-school visits, but the feelings weren't unusual for the introverted child I was. She greeted me and I followed Ms. Yolanda to the kitchen, where I climbed up the chair to sit at her tall brown wooden table. I took in the sweet scents that always filled her home and she went to the fridge, asking me if I like tuna. I love tuna, and I told her so. I wanted it between two slices of bread and she asked how I preferred the bread to be sliced. Never in my childhood had I given much thought as to how a sandwich should be sliced, but suddenly it seemed to matter. How would a diagonally sliced sandwich feel while biting down on it? Surely, it wouldn't affect the taste. She waited with a patience that seemed unlike any other adult I'd encountered. I don't remember whether I preferred my sandwich diagonally or vertically sliced, and it did not matter. In reality, it wasn't how Ms. Yolanda sliced my bread, but how she warmly waited on me to decide. Her patience for me, listening to me, and simply loving me has helped me to create a foundation for the adult I am becoming. Her success illustrated through her lifestyle combined with her tender and loving ways has clearly impacted me more than she will ever know.
What she meant and currently means to me has definitely helped me become who I am today.She helped me to realize at a very young age that there are characteristics that make someone a good person, and that these were characteristics that I wanted to attain. Knowing Ms. Yolanda helped me to realise that the goodness of your heart will shine through your eyes for everyone to see, and that is the way I want to live. I know that what I got out of my experiences with Ms. Yolanda is equivalent to a lesson some take a lifetime to learn.
______________________________________________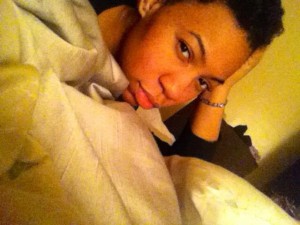 Alexa Lambertis was born on February 16th in Harlem, New York. Her parents met in the music industry but parted ways after her younger sister being born. She and her sibling spent their younger years attending elementary schools across the country, until she came to Harvey Milk High School. Becoming president of her class, she was able to reach out to many, taking part in activism against homophobia and the promotion of equality. She is due to graduate in June 2013 and aspires to attend college in the Fall.