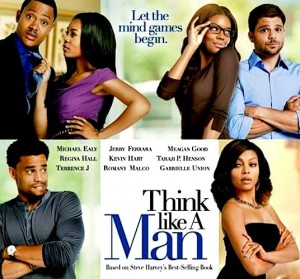 I just finished watching Think Like a Man for the first time on Starz.  I resisted going to see the film when it was released 11 months ago, because I have problems with Steve Harvey capitalizing on black women's pain—in the film and the book that inspired it, Act Like a Lady; Think Like a Man: What Men Really Think about Love, Relationships, Commitment, and Intimacy.  I have serious issues with bullshit patriarchal narratives that suggest black woman must "think like a man" in order to find happiness and fulfillment in heterosexual relationships.  Steve Harvey isn't the only culprit, though.  Last October, D. L. Hughley ranted on NPR about black women being unnecessarily angry.  In response to that, I wrote, "I'm angry because black women continue to be treated like second-class citizens in the political arena, in the media, in some of our families, etc., even as we continue to carry most of these institutions on our backs.  I'm angry because when black women are kidnapped, raped, and murdered, they and their loved ones are the LEAST likely to receive proper justice. I'm angry because we need special shows like BET's "Black Girls Rock!" just to let our daughters, mothers, sisters, aunts, friends, and cousins know that we're intelligent and beautiful, because motherfuckers give people like D. L. Hughley the opportunity to tell us we're not on a REGULAR basis."
On top of all that, how many black men do you think would run out in droves to buy and/or watch Act Like a Gentleman; Think Like a Woman?  Probably not many, since the dominant discourse about black love suggests a black man only has to find a black woman that knows how to stay in her place.  To be fair, this ground has been covered significantly.  Tamara Winfrey Harris wrote, "The message reveals a patriarchal view of male/female relationships that positions women as objects of conquest rather than agents who make their own choices."  Similarly, the Crunk Feminist Collective referred to the film as "the latest insult to Black women's romantic lives."  Black feminists had these adverse reactions, because we have been there and done that for decades.  In Black Macho and the Myth of the Superwoman, Michele Wallace writes, "The message of the Black [Power] movement was that I was being watched, on probation as a Black woman, that any signs of aggressiveness, intelligence, or independence would mean I'd be denied even the one role still left open to me as 'my man's woman,' keeper of house, children, and incense burners."  That was 1976, and we still seem to be struggling with this problem almost 40 years later.  Black women are tired of being told that something is wrong with us.  We are not all sitting around waiting for Steve Harvey and D. L. Hughley to tell us how to get and keep a man.  Believe it or not, some of us are happily single.  Believe it or not, some of us are lesbians.  Believe it or not, some of us are in fulfilling relationships with black men.  And we are tired of being ignored.
So, why did I find myself smiling numerous times while I was watching the film?  Probably for the same reason I smiled when Django said, "I'm back, baby!" to Broomhilda.  It felt a little good to see black men in film going through a bit of hell and a bit of high water getting to black women's love (and even sex), however patriarchal that may be.  Coming to grips with this seems to be a recurring dilemma for young black feminists.  In When Chickenheads Come Home to Roost: A Hip-Hop Feminist Breaks It Down, Joan Morgan courageously asks, "Can you be a feminist and admit out loud that there are things you kinda dig about patriarchy?"  I remember reading that book for the first time almost 15 years ago, and it's still comforting to be reminded that I'm not alone.  I'm a young black woman in America.  It ain't often that I get to watch films on the big screen that feature a black man trying to come rescue my ass.  Yes, brotha—come GET me!
I think I feel this way, in part, because my black feminist foremothers taught me that the black superwoman myth often hurt us more than it helps.  In "Black Man, My Man Listen!," Gail Stokes writes, "You are dependent, very dependent, upon my proddings, my ideas, my dreams, and at first I am glad that you need me so.  I eagerly and happily feed you from the plate of motivation knowing that it is difficult for you to help yourself.  But, then at times you cause my arms to grow weary as I work harder straining myself in order to build you up."  Yes, brotha—come get ME!  In Ain't I a Woman?: Black Women and Feminism, bell hooks writes, "Most black women have not had the opportunity to indulge in the parasitic dependence upon the male that is expected of females and encouraged in patriarchal society […] The social equality that characterized black sex role patterns in the work sphere under slavery did not create a situation that allowed black women to be passive."  Yes, brotha—come get ME!
This is why I couldn't help but smile when, in Think Like a Man, Candace's son Duke brought Michael to her so they could make up.  I smiled when Zeke told Mya that he was willing to start over and wait 90 days to have sex, since that's what she wanted.  I even giggled a little when Cedric called Gail and told her he was coming home.  (Side note: I did roll my eyes a bit, too, because of course, a "talking to" from the good, happily married white dude, Bennett, just had to be the impetus for Cedric's homecoming.)  To be honest, I was conflicted about all of that smiling when the movie ended.  That's why I decided to write, to try and make sense of what I was thinking and feeling.  It's important that we continue reconciling our thoughts and emotions regarding feminism and our sometimes challenging relationships with the black men we love.  How else are we going to progress the tradition our foremothers worked so hard to develop for us?  How else are we going to remember who we were, define who we are, and decide who we want to become?
Of course I'm not waving a white flag, surrendering my aggressiveness, intelligence, or independence.  I'm also not trying to use my aggressiveness, intelligence, or independence to manipulate the man I share my life (including two children) with.  Patricia Haden, Donna Middleton, and Patricia Robinson once told us, "All that 'Big Daddy' and 'head of family' shit is possible because we play the game—ego-tripping black men and ourselves."  I'm far from suggesting that, but Steve Harvey seems to be suggesting, in many ways, that I—that we—do that and then some.  That's where he gets it dead wrong.  Still, there was one last part near the end of Think Like a Man that made me smile.  I probably smiled my biggest smile when Lauren jumped on Dominic's food truck demanding a second chance.  Yes, brotha—come GET me!  But you also need to realize that I'll come get YOU, too.  And we both need to be okay with that.
UPDATE: Django says, "It's me, baby!" to Broomhilda, not "I'm back, baby!"