By Roya Rastegar
We are far from a "post-racial" society. The films nominated for Best Adapted or Original Screenplays reveal an intensifying compulsion to engage race in America. Beasts of the Southern Wild. Lincoln. Django Unchained. Argo. Zero Dark Thirty. Flight. The high profile of these films positions them at the nexus of popular discussions around race, politics, and society.  But since each of these films is told through the perspective of white men (either as writer or director), it is crucial to ask: Do these pictures lend insight into the history and future of race in America, or do they reflect the anxieties and fantasies of a specific group of people in contemporary American society? And is there a place for other films – from different perspectives – that could expand the conversation? The heightened engagement with race in this year's films begs new directions for this question beyond the debate of positive vs. negative representations.
But are films that offer these new directions even legible to the Academy?
Consider one film that gained serious traction as a contender for best screenplay – at least within emerging independent film communities. Middle of Nowhere is written and directed by Ava DuVernay (who was the first African American to be awarded Best Director for Narrative film at the Sundance Film Festival in 2012).  The drama follows a young newlywed as she waits for her husband's early release from a five-year prison sentence. Challenging the conventions of the "prison film" genre, Middle of Nowhere foregrounds the perspective of people "on the outside." DuVernay explores how the prison system infiltrates even the most intimate spheres of life, creating losses not only through physical incarceration, but also through emotional and psychic isolation. Unlike other political dramas focused on an individual's journey, the innovation of Middle of Nowhere's craft is in its navigation of multiple, competing perspectives as they unfold throughout the story. This is another kind of political film, one that manifested the power of storytelling in an unprecedented way a couple months ago, when the FCC drew upon Middle of Nowhere as testimony in a legal case against telephone corporations engaged in price-gauging families of the incarcerated. Rather than creating an interpretation of Black experiences or life, DuVernay grounds complex and nuanced characterizations in a reflection of her own perspectives and investments. This is not to say her work is autobiographical. Rather, it is to highlight the possibilities and limitations of interpretation – in contradistinction to reflection.
While it no longer surprises anyone that white men are the primary forces of influence when it comes to the film industry, it is necessary to account for how our racial affiliations affect the way we tell stories – and how we watch and value films. Middle of Nowhere inspires a compelling direction for evaluating the merits of a story. The film was independently produced on a shoestring budget and distributed through a nationwide, grassroots campaign geared towards building a platform to connect Black independent film with audiences. As a film curator who evaluates various levels of films, I've learned that films must be taken on their own terms. Comparing a $40 million film against a film made with less than a percentage point of that budget is shortsighted – and risks missing a great story. The key to judging a film on its own terms is to focus on the craft of storytelling: the clarity and honesty of the dialogue, rigor, and originality of the film's narrative structure, and the depth and resonance of the characters. Is the Academy so overcome by the limitations of its own perspective that it has become blind to the craft manifest in other kinds of storytelling?
Consider two of the most lauded films of the year, both of which have significant merits but nevertheless suffer from serious flaws in their storytelling.  Steven Spielberg's Lincoln is about the passage of the 13th amendment that abolished slavery. Without the hindsight of a century, most Congressmen had either moral or economic objections to this hugely contentious bill that the President strategically and steadily negotiated around, jeopardizing the lives of thousands, including his son's. But for a biopic about the power of persuasion to compel one of the nation's greatest social transformations, the source of the lead's moral resolve is starkly obscured. Lincoln fails to meet its own challenge. Instead of grappling with the character's motivations and investments, the film devolves into another White House political drama.
Another contender is Argo, the true story of a CIA operative who works under the pseudonym Ken Hastings and has an expert knack for creating disguises for covert missions to get people out of dangerous political situations.  Several comments in the beginning reference Hastings (played by director Ben Affleck) as an "outsider" amongst his colleagues.  But the reason is never clarified. Soon, the CIA approves Hastings' plan to use a Canadian sci-fi film production as a cover to smuggle six American diplomats out of Iran during the 1979 hostage crisis. Hastings arrives to rescue the Americans, but faces a problem – they don't trust him. Again, the reason is unclear. In the final hour, this issue of trust is brashly resolved when Hastings reveals his real name – Antonio Mendez. In the context of an otherwise sharply structured film that packs tension into every turn, these key elements of Hasting/Mendez's character, and the source of the obstacles that he must overcome, are starkly underwritten. Until the credits roll, and a photograph of the 'real' Mendez depicts an ambiguously raced man whose face matches the Latino name much better than "Ken Hastings" ever could. The suspicion and outsider status begin to make some sense. The point is not that a Latino man should have been cast, but rather that this choice was at the expense of the story's comprehensibility. Race has shaped our relations to each other. Not dealing with the implications of raceleaves holes in story and character.
Lincoln, Argo, Beasts, and Django have received floods of attention – some good, some bad. But great films are more than their fanfare, celebrity, and controversy. Oscar nominations secure a film's status within the canon of American film culture.
Will Middle of Nowhere - with its smartly crafted story and significant contributions to American independent film culture - also have a place in film history? Will inhabited perspectives unhinged from white, male interpretations become part of our culture's archive? Storytellers are able to show us reflections of humanity in the most intimate – and at times, most unfamiliar – places. But does race draw a limit to the stories and films the Academy can value?
__________________________________________________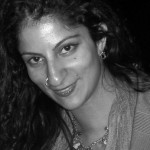 Roya Rastegar is Visiting Professor and Andrew W. Mellon Postdoctoral Fellow in Film Studies at Bryn Mawr College. She holds a Ph.D. in the History of Consciousness from the University of California, Santa Cruz. She was a Programmer at the Tribeca Film Festival and has been part of programming teams at the Sundance Film Festival, the L.A. Film Festival, and the Arab Film Festival. She was a Curatorial Fellow at the Whitney Museum of American Art from 2008-9, and a Co-Director of the Santa Cruz Women of Color Film & Video Festival from 2004-5. She is currently writing a book on the history of American film festivals and contemporary film programming practices.