By Fakhra Hassan
The date is 28th April, 2012. The city is Lahore. The venue is the Lahore Press Club. On behalf of the Institute of Peace and Secular Studies (IPSS), we come together to condemn one of the most brutal massacres of Hazara Shi'as, yet another persecuted minority sect, that has made it to the pages of a tumultuous Pakistani history.
The scene at the Press Club is absolutely mesmerizing and reeks of melancholy and irony. It almost feels like a Get Together (GT) for the Hazara race across Pakistan, chanting slogans and making peaceful demands to the government for protection. There are hundreds of people. Most of them have brought their entire families to this gathering, even newborns. There are no Orwellian Pakistanis to be found in their vicinity. Where could they be?
Since 1962, about 19,000 members of Pakistan's Shia minority have died as a result of targeted ethnic-communal killings. What is the rationale behind these targeted killings? It's plain and simple, as Leslie Hazleton – veteran Middle East journalist and author of After the Prophet: The Epic Story of Sunni-Shi'a Split in Islam, puts it: rejectionist terrorism.
I stand with a handful of Hazara women who could otherwise be identified as Pakistani women accused of blasphemy, adultery, and fearing for their lives and honor. There is no safety net in being a Pakistani woman. The Hazara women have not a single frown on their foreheads. They have more important things to worry about. "Why didn't any non-Hazari'ite come to support us? Where have all of the Lahoris gone?" No one cared.
I am one of the Shi'a women in the midst. I feel disgusted, almost naked and humiliated at the thought of being Pakistani. Water is central to my Shi'a beliefs, and no we don't poison the neighbor's food with our saliva or eat your precious newborn babies alive. Though we certainly wouldn't mind having the ability to eat babies. That way we could at least give courage and hope to the raped girls to exercise their right to abort unwanted bastards and relieve them of the misery and guilt to live with the horrors of rape for the rest of their lives.  That would be our version of rejectionist terrorism – in your face with full force.
Speaking of which, the agitation around the missing people subsided when we began to reason where our so-called supporters would be. It is ridiculous to even think whether any of them heard us. Why? Because at least 48% of them were too busy shitting in the waters of Indus while preaching to the local populace that cleanliness is half the faith. And you can bet that sectarian cleansing bears no exception to the polluted Hadith. The rejectionists, centuries ago, certainly had no shame when they were cutting off water supplies to the last remaining progeny of Prophet Muhammad (Peace Be Upon Him). Why would the present day capitalists have any shame?
So, let's not be too cynical about the remaining 52%. They must have had their reasons for ignorance and stupidity. Dr. Amina Wadud, Black-American Muslim scholar, explains this short-sightedness well: "The rubric in Islam is there is no intermediary between any person and God. Each person has equal access to God, and God has equal relation and connection to every person. That mandate has been denied because patriarchy has controlled not only the orthodoxy of religion but also customs and culture, and thus women have been relegated to a secondary role, and that role is encapsulated with theological taboos, as if to go outside the patriarchal role is going outside the religion."
"I think, it's not our religion they hate," claims one Shi'a protestor from Hazara. He did not wish to be named. "Even if I am an atheist, Muslim, Christian, Hindu, or Jewish, that still would not stop them from killing us. They don't like the way we look. We have very peculiar physical features and a history that is too often associated with Mongols and the Afghans as if we are a race meant for elimination. They have profiled us that way, and when there is a match, they pull the trigger. It's as simple as that."
In Pakistan, it is indeed not the religion they hate. It is the racial and class disabilities they hate because the humans of Pakistan love to play God. Being an 11-year old Christian child is worse than Down's Syndrome. Refusing to drink water fetched by a poor Christian woman is worse than drinking poisoned water. Two prominent Pakistani leaders were assassinated in condemning the Blasphemy laws, which the people found more entertaining than desecrating the graves of Ahmadis. Forced conversion of Hindu girls is one of the most favorite God games for the humans of Pakistan.
It was the Jurhumites who destroyed the source of Zam Zam – found by Hajra, a woman slave from Egypt and her infant son Prophet Ismail (Peace Be Upon Him) to avenge somebody else's war – only to be rediscovered centuries later.
As we march in solidarity with no water in sight, we mourn for the women forced to march naked, in Haripur. The women I am marching with are aspiring lawyers, scholars, and artists. Every time we looked at each other, there was nothing but smiles and hope. The sight of it brought tears to my eyes and gave me heart at the same time. They very well could be the next Judith Butler or Alice Walker whose powerful literary voices in the circles give strength to the oppressed and slap cultural hegemony on the cheek.
As world leaders continue to take for granted the elements that make them human, it is worth remembering here that Prophet Mhammad's (Peace Be Upon Him) grandson, Imam Hussein (Peace Be Upon Him), as Hazleton writes, was a "scholar, not a warrior or a statesperson." This painful reminder of history echoes with the large number of disappearances and targeted killings in Balochistan that have predominantly included lawyers, scholars, students, and journalists. It is the same hot and dry terrain where five women were buried alive for choosing their husbands.
The real struggle, Dr. Wadud believes, is to ensure that patriarchy remains a human institution, not a divine institution. "Bring it back to the theological framework and do not relinquish religion to patriarchal interpretation and implementation," she advises.
As we conclude the march, I notice there has never been any water in our survival kit. It has been wasted, stolen, polluted, poisoned, mis-used, or hidden from our reach. So yes, I'm a Shi'a woman. I dare you to challenge my Muslimness with your water-powered kits.
_____________________________________________________________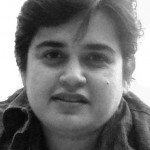 Fakhra Hassan is a self-identified feminist. She is a freelance copy writer with keen academic interests in Eco-feminism, history of religion art, typography, fashion, and music. After completing her Master's in Physics and English literature, she is preparing to resume her academic life next year for doctoral studies in Environmental Engineering. She is currently working on her first science fiction novella based on the complicated spiritual and material struggles of queer identities and women of color in conservative Muslim societies.