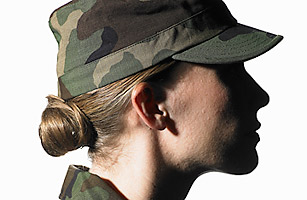 Women in all branches of the armed forces, including the Coast Guard, have relayed stories that follow a similar pattern — a sexual assault, a command dismissive of the allegations and a psychiatric discharge.
Despite the Defense Department's "zero tolerance" policy, there were 3,191 military sexual assaults reported in 2011. Given that most sexual assaults are not reported, the Pentagon estimates the actual number was probably closer to 19,000.
From 2001 to 2010, the military discharged more than 31,000 service members because of personality disorders, according to documents obtained under a Freedom of Information Act request by the Vietnam Veterans of America. Some of the women discharged from the military with a personality disorder diagnosis believe that label resulted from their efforts in trying to report sexual assault, rather than valid concerns over the women's mental health.
Anu Bhagwati, a former company commander in the Marines and executive director of Service Women's Action Network, a veterans advocacy group, agrees. She says she sees a pattern of the military using psychiatric diagnoses to get rid of women who report sexual assaults. "It's convenient to sweep this under the rug. It's also extremely convenient to slap a false diagnosis on a young woman … and then just get rid of them so you don't have to deal with that problem in your unit. And, unfortunately, a lot of sexual assault survivors are considered problems," Bhagwati says.
Military records show the personality disorder diagnosis is being used disproportionately on women, according to military records obtained by Yale Law School's Veterans Legal Services Clinic under a Freedom of Information Act request.
–In the Army, 16% of all soldiers are women, but females constitute 24% of all personality disorder discharges.
–Air Force: women make up 21% of the ranks and 35% of personality disorder discharges.
–Navy: 17% of sailors are women and 26% of personality disorder discharges
–Marines: 7% of the Corps and 14% of personality disorder discharges
Note: The records don't reflect how many of those women had reported sexual assault.
Read more: CNN