By Derrick L. McMahon Jr.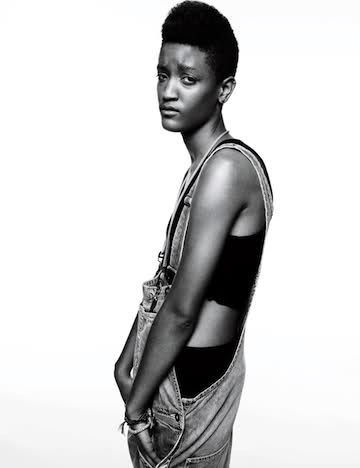 Dear Syd the Kyd,
Let me begin by commending you for speaking openly and honestly about your experiences as a Black gay woman. While I'm at it, I would also like to commend you for pursuing a path that has been difficult for gender-non-conforming women like yourself. Unfortunately, there aren't many prominent Black gay women who are singing and DJ'n, so that deserves credit upfront. I truly welcome your entrance into mainstream pop culture.  However, I also have some reservations.
Recently, I came across an interview you did with the LA Weekly blog, and I have to admit, I was disappointed by many of your views. I am not one to deny others of their opinions.  Everyone has a right to their own.  Nevertheless, I was disappointed with the reasoning in which you constructed those opinions. As a Black gay man, I share your frustration with the lack of role models for Black gay youth, nonetheless I think that is a separate issue from what you conveyed in your interview.
I also understand there are certain stereotypes that we use to determine someone's sexual orientation, and usually perceived masculine traits performed by a woman is fits this (problematic) bill.  Yet, I think we do ourselves, as Black gays, a disservice when we try to force others out of the closet, or suggest that someone is a certain way based solely on their representation or what we think their sexuality is. Yes, it is highly possible that Alicia Keys, Missy Elliott, and Queen Latifah are gay women, but they could also be bisexual women. In short, you fail to challenge the binary, heterosexist thinking that sexuality is either straight or gay. To be sure, sexuality is more than a dichotomy.
In a society that promotes heterosexuality at every turn, being comfortable with our sexual way(s) of being is nothing short of a work in progress. Would I love for all gay, bisexual, and pansexual people who are in the closet to come out and live their lives openly, honestly, and free from shame? Yes.  But, that is easier said than done, particularly when people are shamed and attacked daily simply for being who they were born to be.  As a Black gay, I would expect you to be sensitive to this.
During the interview you stated, "Do I look straight to you?" in response to a question re: your sexuality. While I understand what you were trying to convey, I think it's dangerous to suggest that sexuality has a look. This is a stereotypical way of thinking.  It suggests that there are certain behaviors or looks that reveal a person's identity.  This simply isn't true.  If it were, which it is not, it certainly wouldn't be true for everyone–all of the time. There are so-called "masculine" women who self identity as heterosexual, just as there are so-called "masculine" women who self identity as bisexual or homosexual.  And, there are so-called "feminine" women who self identify as heterosexual, just as there are so-called "feminine" women who self identify as bisexual or homosexual. Moreover, there are numerous women, perhaps most women (and men, and those in-between), who ease in and out of these classifications in ways that unveil the fault lines of our categories and the messiness of our lived existence. Make no mistake about it, there is more to sexual ways of being than how we look and act.
Rest assured, I will continue to watch your career, and I wish you the best in all of your efforts. Please know, this letter, if it finds you, isn't about attacking you, but rather about better grasping not only where you are coming from, but also (hopefully) helping you navigate the often difficult road of being a Black gay person in the mainstream media. Your experiences are valuable.  I would never try to deny that.  However, I would like to challenge you to be more mindful of the language that you use, and the ramifications of it. As a Black gay who is becoming more and more prominent you have a responsibility to challenge conventional ways of thinking.  However, this demands that you be ever mindful of the ways that your choice of words reproduce and circulate oppressive ideas.
All the best,
Derrick L. McMahon Jr.
___________________________________

Derrick L. McMahon Jr. is a graduate of Florida A&M University. He currently works as a sixth grade social studies and media studies teacher. As an essayist, he focuses on gender, race, sexuality, and atheism.